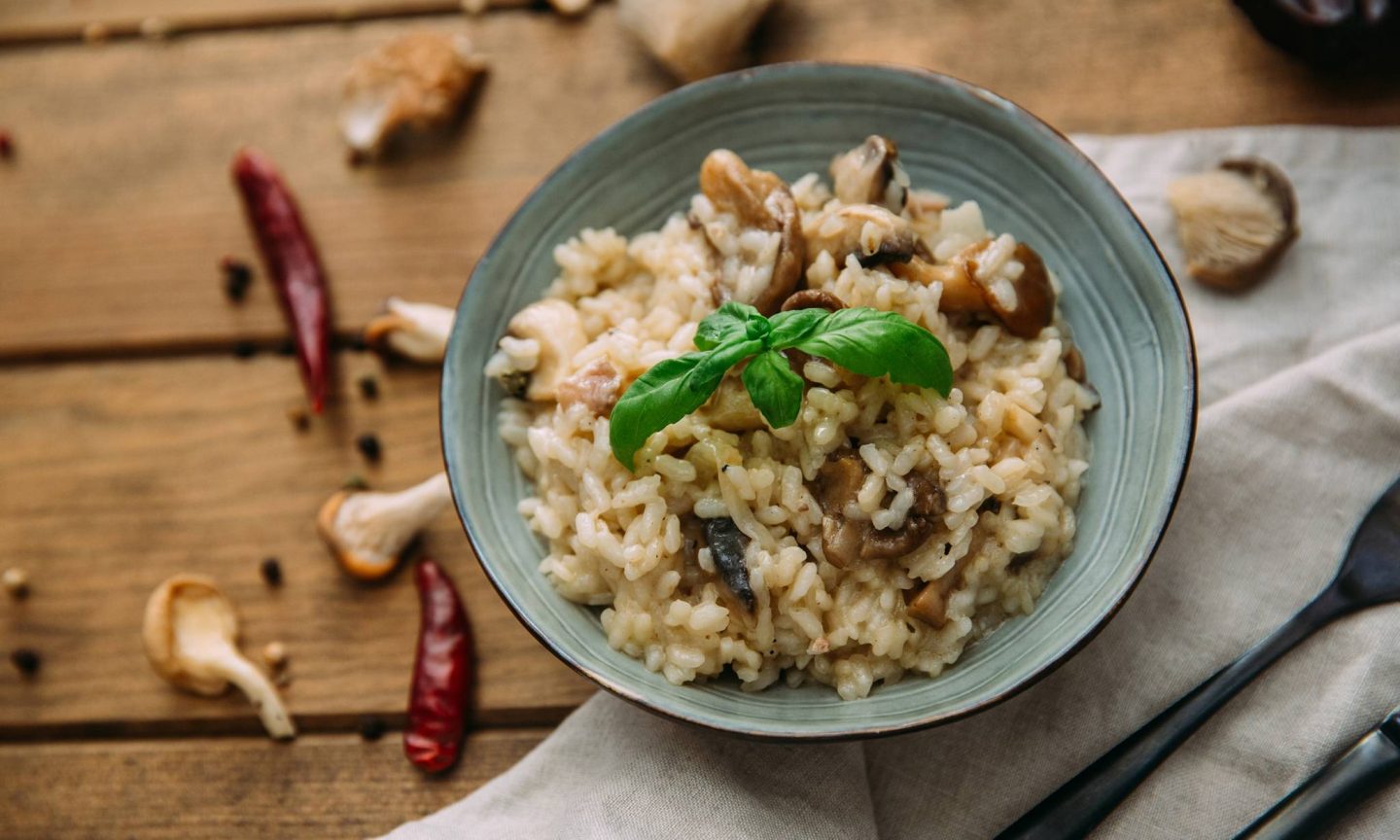 Dried porcini risotto
A unique and delicious way to elevate your risotto is with the addition of dried porcini (our dried wild mushroom mix would work too if you're after a more cost effective option). Together the flavours merge beautifully- the rich and velvety texture of risotto can be perfectly offset by the deep and nuttier flavours of the dried porcini. This dish is simple but luxurious and would make the perfect serving at a dinner party or for that special someone. Even better, the addition of goats cheese before serving adds a tart taste that will make this plate unforgettable. Follow the steps below and discover your new favourite meal.
Prep time

15 mins

Cook time

40 mins

Servings

4

Difficulty

medium
Ingredients
330g Risotto Rice
300ml Warm Water
Goats Cheese
1 Onion
Cubed Butter
900ml Chicken Stock
Salt and Pepper
Method

Step One

Firstly, take your porcini mushrooms and place them into a bowl. Using some hot water, let them soak for a while until they have softened. Once you have done that, drain the mushrooms (making sure to save the water) and chop your porcini's up. With the saved water, put it on low heat and let it simmer in a saucepan for the time being.

Step Two

Next, in another pot, take your olive oil and begin to let it warm up over a low heat. Add your chopped onion and garlic and revel in the delicious smell as they begin to cook. After 5 minutes or so, add your porcini mushrooms, risotto rice and salt to taste.

Step Three

After 2-3 minutes of letting that cook, take your simmering water from earlier and add around 8 tablespoons to your risotto mixture. Stir until this has been completely absorbed.

Step Four

Continue to cook your risotto until it is completely done, for roughly around half an hour. During this time make sure to keep adding in 8 tablespoons of the porcini water and mixing well until it has dissolved.

Step Five

Finally, for the last step, take your cubed butter, goat's cheese, salt and pepper and stir into your risotto. Transfer your porcini risotto to warmed plates and prepare to serve for yourself and soon to be very appreciative guests. Voila!