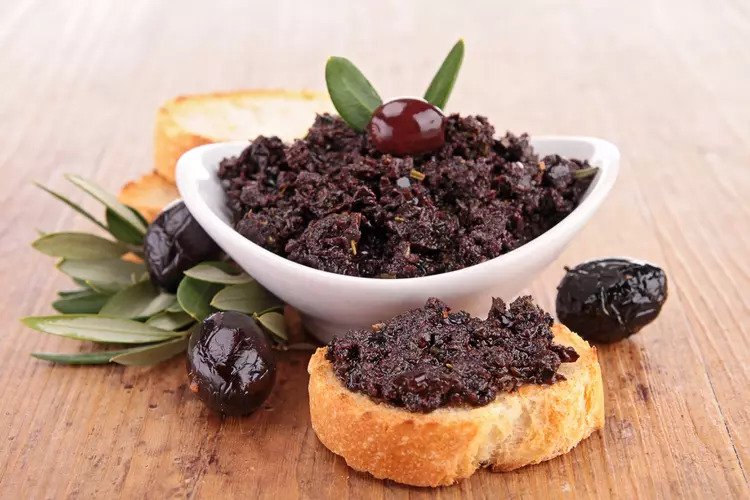 Tapenade
A Little About Provencal Tapenade!
Tapenade is a simple and very easy to prepare olive based paste/ spread, which is delicious served on bread, toast and canapes. It is very similar to our Kalamata olive meze and we felt it may be interesting for you to have a go at making this typical Provencal recipe!
Tapenade will keep well in a fridge for a week or so and you can play around with different proportions of each ingredient to make it suit your taste (for example we like adding plenty of garlic and anchovy!).
Tapenade Ingredients
170g Black Olives, preferably a Provencal variety such as Nyon olives.
2 Anchovy fillets
1 peeled garlic clove
2 tablespoons of capers (rinse them before use to remove excess saltiness)
One tablespoon of thyme or oregano.
A few drops of lemon juice.
Freshly ground pepper to taste.
6 tablespoons of extra virgin olive oil.
Method To Make Tapenade
If the olives are stone in, cut away as much flesh as you can. We generally prefer stone in olives as we find they taste better. But if you want to simplify matters, used pitted olives.
Put the olives in a blender with all the other ingredients and blend for one minute until you have a smooth paste.
Variations On Our Tapenade Recipe
As mentioned already, it's very easy to tweak the ingredients of your tapenade to make it suit your taste and/ or dietary requirements.
For example if you are vegetarian or vegan, you can use the ingredients listed, but without the addition of anchovies.
Depending on your preference, you can prepare tapenade with either black olives or green olives.
If you are not keen on the taste of capers, or would rather reduce your salt intake, you can omit adding capers to the recipe. This will automatically make it less salty.
Storing Tapenade
Store in a fridge up to a week and if you add a thin layer of olive oil on top, this will help it last longer.
Tapenade Uses In Cooing
Pasta With Olive Tapenade – we've linked to a very appetising looking recipe courtesy of the Whip And Wander Website.
Olive and Goats cheese crostini – another simple and inviting recipe!
Tapenade as an appetiser on crackers and also ideal to serve as canapes.
Tapenade Bruschetta – a great looking starter idea courtesy of BBC Good Food.
Tapenade as a pizza topping.
You can also use tapenade in more unusual ways such as incorporating it into a bread mix to make an olive bread of sorts! This works particularly well in focaccia style bread.
The "Great British Chefs" website has some interesting ideas on "tapenade: how and when to use it?"
Alternative Tapenade Recipes
Having researched this recipe a little, we chose this one as we find it captures the essential flavour of tapenade in a very simple way, but a few other recipes, which we found interesting include
How To Make The Perfect Tapenade Courtesy Of The Guardian.
A lovely black olive tapenade recipe (video version) courtesy of Jamie Oliver – the main difference is that he uses fennel seeds and chilli. It's entertaining! One interesting take from this recipe is that they suggest using stone in olives – we agree!
Other Types Of Tapenade
You can use the basic olive tapenade idea but re-work it with other Mediterranean ingredients such as sundried tomatoes, and the yummy bazaar food blog really addresses this question in depth!
Wishing You Happy Cooking!
The Good Food Network!