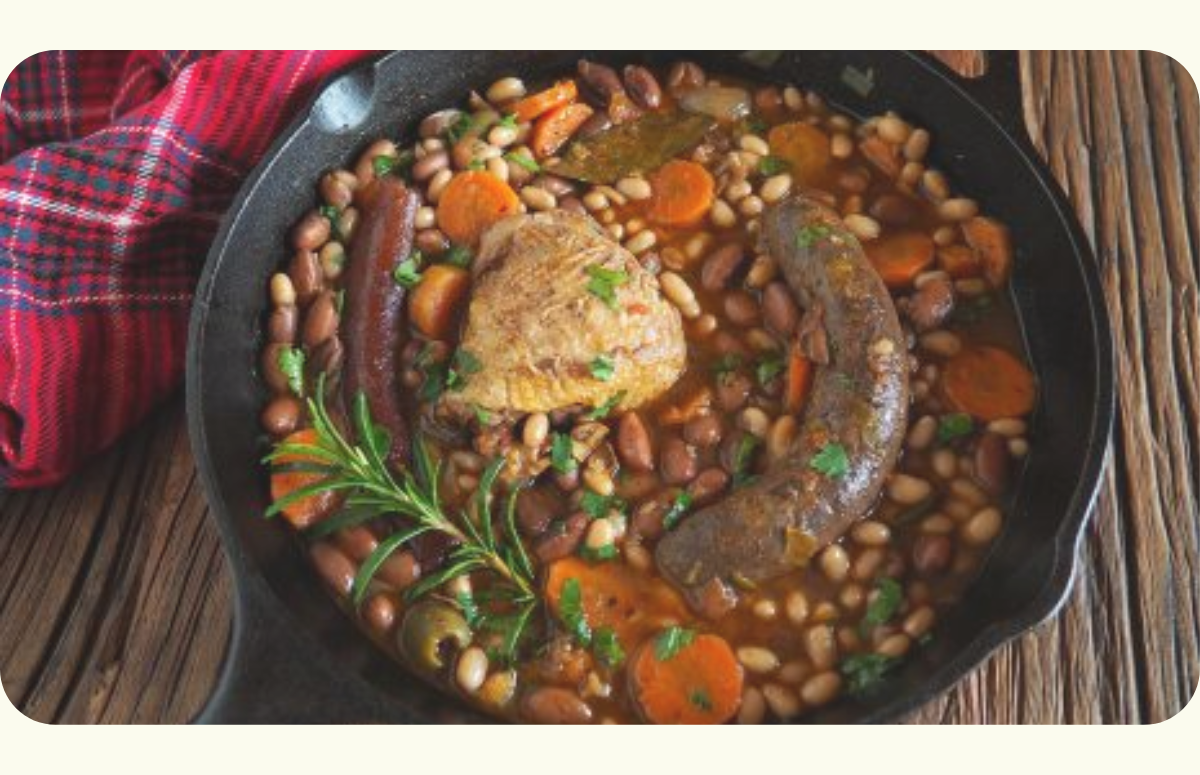 Regional Carcassonne Cassoulet Recipe
Today, we've got a real treat for your taste buds – a hearty and flavourful Regional Carcassonne Cassoulet. Now, don't be intimidated by the fancy name; this dish is all about simple ingredients coming together to create something seriously delicious. 
So, whether you're a seasoned chef or just looking for some good ol' comfort food, stick around because we're about to dive into the world of this classic French dish. Grab your apron, and let's get started!
You can also explore our range of ready-to-eat French Cassoulets meals, perfect for a quick, nutritious meal that also tastes delicious. 
Prep time

30 minutes

Cook time

2 hours 30 minutes

Servings

6-8

Difficulty

medium
Ingredients
(450g) dried white beans (Great Northern or Cannellini)
(450g) boneless skinless chicken thighs cut into chunks
(225g) pork sausages (preferably Toulouse or any flavorful variety)
(225g) duck confit shredded (you can also use duck legs)
1 large onion, finely chopped
4 cloves garlic, minced
2 carrots, diced
2 celery stalks, diced
2 bay leaves
1 teaspoon dried thyme
1/2 teaspoon dried rosemary
1/2 cup white wine
2 cups chicken broth
2 tablespoons tomato paste
Salt and black pepper to taste
2 cups fresh breadcrumbs
2 tablespoons olive oil
Chopped fresh parsley for garnish
Method

Prep

Rinse the dried white beans under cold water and soak them overnight in a large bowl of water. Drain and rinse the beans before heating a bit of olive oil over medium-high in a large Dutch oven or heavy-bottomed pot heat.
Add the chicken pieces and sauté until browned on all sides, then remove them from the pot.
Next, brown the sausages and remove them as well.
Finally, brown the duck confit or duck legs and set them aside.

Cooking

In the same pot, add more olive oil if needed, and then add the chopped onions, garlic, carrots, and celery. Cook until the veggies are softened and fragrant, about 5-7 minutes.
Return the chicken, sausages, and duck to the pot and add the drained beans, bay leaves, thyme, and rosemary.
Pour in the white wine and let it simmer for a few minutes.
Stir in the tomato paste and chicken broth, and season with salt and black pepper.
Cover the pot and simmer on low heat for about 1.5 to 2 hours or until the beans are tender. Stir occasionally.
While the cassoulet is simmering, heat olive oil over medium heat in a separate pan, add the breadcrumbs and toast them until golden brown. Set aside.
Finish and Serve.

Final Touches

Sprinkle the toasted breadcrumbs evenly over the cassoulet.
Garnish your Regional Carcassonne Cassoulet with fresh chopped parsley.
Serve hot and enjoy this comforting French classic with a slice of crusty bread and a glass of wine.