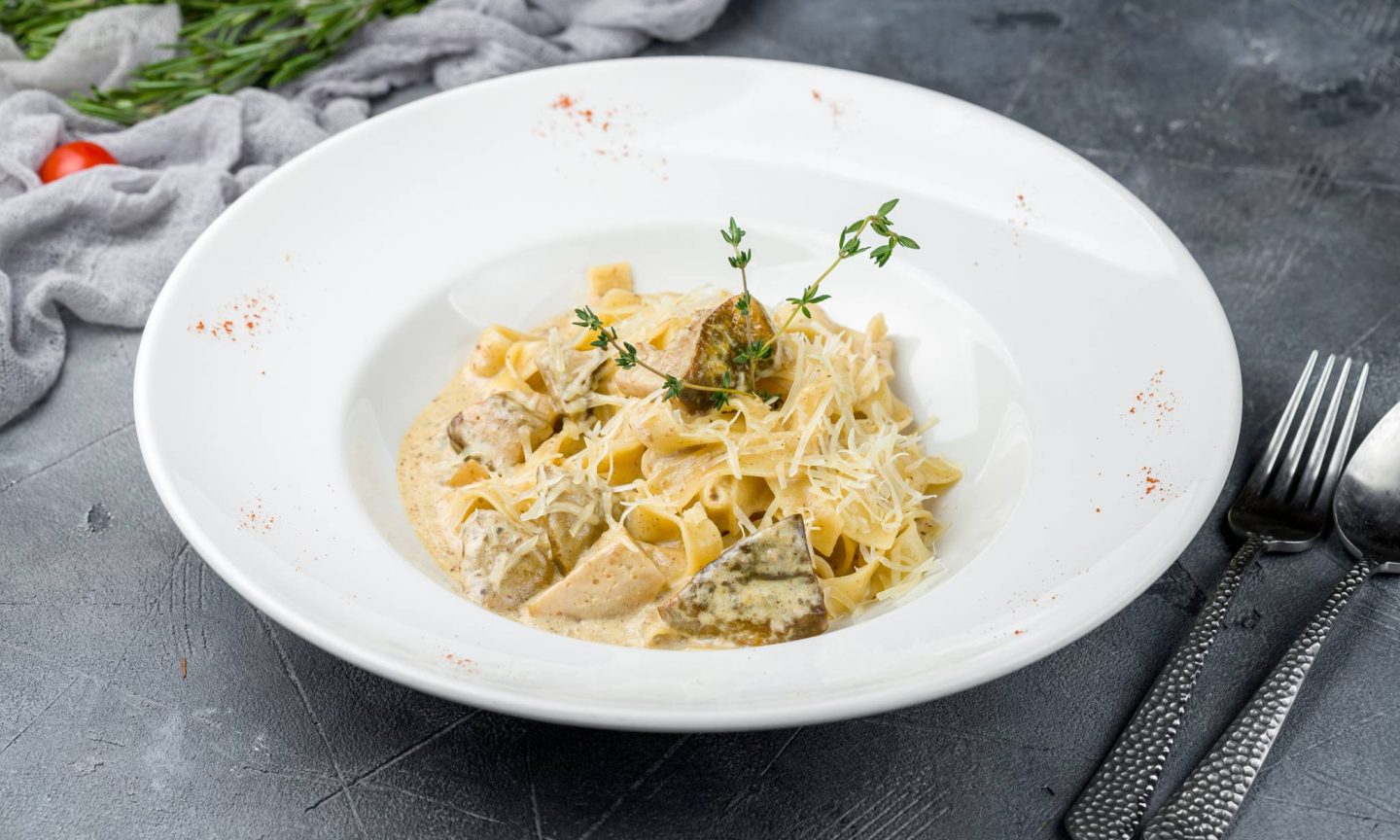 Dried porcini pasta recipe
Prep time

15 mins

Cook time

30 mins

Servings

4

Difficulty

medium
Ingredients
120ml of Heavy Cream
150g of pasta
65g of parmesan cheese
1 onion
Butter
Salt and Pepper (or any other seasonings to taste)
Dried porcini is one of our favourite variations of mushrooms. The nutty, earthy flavours create a unique and forgettable taste, made even better with the safe knowledge of their long cupboard lifespan. This recipe is the perfect way to combine a classic, creamy pasta dish with the deeper, tender flavours porcini offers. Even better, the versatility of this recipe makes it perfect as a simple dinner party dish, as a romantic meal for two or even as a regular plate throughout the week. Follow the steps below to recreate and try for yourself.
Method

Step One

Firstly, boil your kettle to create your boiling water. Place it into a saucepan before taking your pasta and let it start to cook.

Step Two

Next is the exciting part. Take your dried porcini mushrooms and soak them until they become soft. Once they're ready, drain the water into a separate bowl for later before drying and slicing them thinly.

Step Three

Now, it is time to start on your sauce! Take a pan and begin to melt your butter over it. Once that has melted you can add your thinly chopped onions until they begin to brown lightly. After this, add your porcini mushrooms and seasoning to taste (we recommend salt and pepper) and cook this for a couple of minutes.

Step Four

Now, after 2 minutes of stirring your sauce, add the porcini water you saved from earlier.  Keep heating this until your sauce begins to reduce by around half. Add your heavy cream now to rethicken your sauce and let it simmer for 2-3 minutes. You can also add your salt, pepper and seasonings to taste.

Step Five

Now, drain your pasta and get excited about the final step! Combine your pasta and porcini sauce together whilst also stirring in your parmesan. Once mixed, place the delicious dish onto your pre-warmed plates and get ready to hear the songs of approval from your guests.
Products used in this recipe