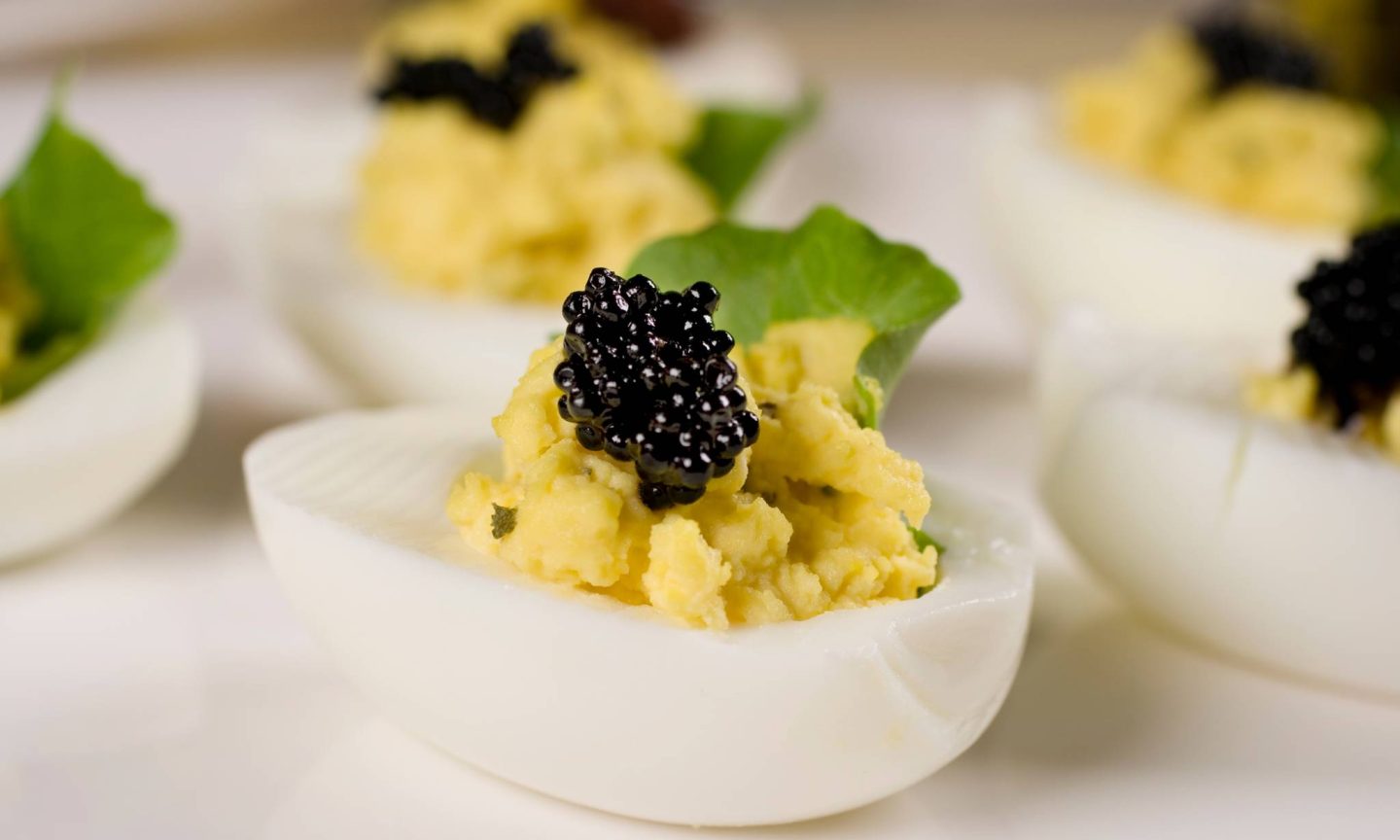 Caviar deviled eggs
Prep time

15 mins

Cook time

10 mins

Servings

6

Difficulty

easy
Ingredients
6 eggs
2 tbsp Mayonnaise
2 tbsp Creme Fraiche
Seasoning to taste
What could be a better way to elevate your standard deviled eggs than by adding caviar? Spend your morning feeling like royalty whilst cooking, eating and revelling in this unique and unforgettable dish. The creamy and tangy devilled eggs are perfectly offset by the rich, salty addition of caviar- a taste combination you'll be reaching for again and again. Whether you're serving this dish up for a romantic breakfast date, a morning-after brunch or even as an extra special treat for yourself- we're sure you won't be disappointed. Follow the steps below to recreate this extra special breakfast plate.
Method

Step One

First, take all 6 of your eggs and pop them into a saucepan of boiling water. It can take anywhere from 9-12 minutes for your eggs to be hard-boiled.

Step Two

Remove your eggs once they are hard-boiled and place all 6 into cold water before removing the outer shells.

Step Three

Next, the magic happens. Take a knife and slice your eggs lengthways- before gently removing the yolk from the inside of the eggshell. Place the insides of all 6 eggs into a separate mixing bowl.

Step Four

Begin mixing the contents of your mixing bowl. As you continue to stir, add in the creme fraiche, mayonnaise and seasonings to taste (salt and pepper is recommended)

Step Five

Gently take a small spoon and place the mixture back into the hollowed-out egg whites. Once you have refilled your eggs, place them on a dish- they're almost ready!

Step Six

Finally, take your choice of caviar and gently place it on top of your deviled eggs. Voila, here you have a delicious and unforgettable breakfast dish.
Products used in this recipe