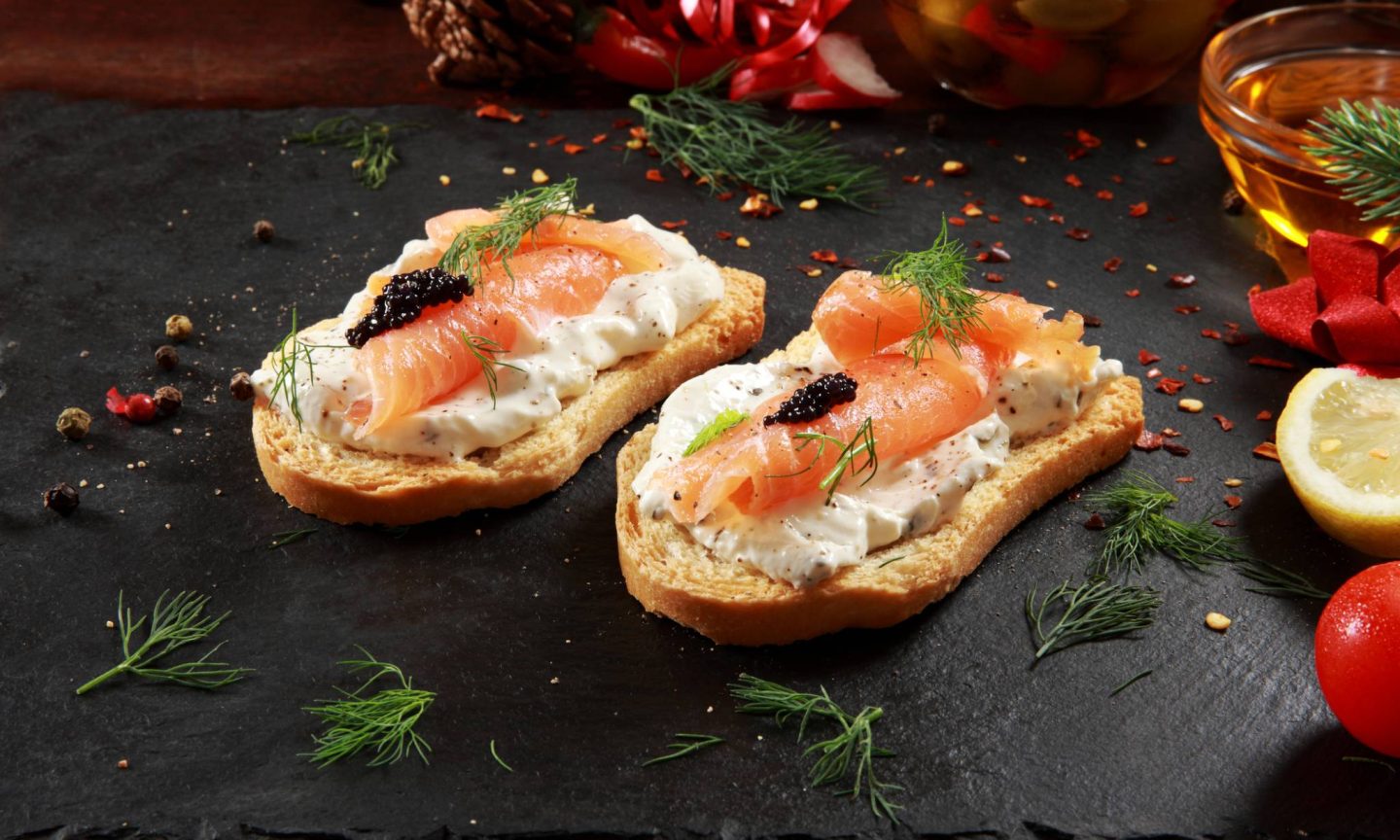 Caviar and Smoked Salmon Canapes
The unique and distinguishable tastes provided by caviar and smoked salmon separately are heightened even further by coupling them together. Impress your friends and family with these delicious caviar canapes that are the perfect addition to any meal setting- and are delightfully simple to assemble. Whether you're creating a luxurious entree for a large dinner party or as a starter for your romantic date night, we are sure this is a dish that will be loved by everyone.
Prep time

5 mins

Cook time

10 mins

Servings

15-20

Difficulty

easy
Ingredients
Smoked Salmon
Cream Cheese
Crackers or French Bread rounds
Garnish of Dill
Salt and Pepper
A bottle of bubbly
Luckily, because your main ingredients provide such unique and strong flavours- they will remain stars of the show. All you will need to compliment is your choice of base (crackers, puff pastry, etc) and your favourite bottle of bubbles!
Method

Step oneFirstly, you must make sure your ingredients are perfectly prepped. After all, the presentation and serving of your canapes is only half the job. Begin by thinly slicing your smoked salmon into small and even parts.
Step twoNext, it is important to ensure your canape base is cooked to perfection. If you are using a plain cracker- your job is already done. If you are opting for toasted fresh bread rounds, then place them under a grill until they reach a delicious looking light brown shade.
Step threeNext it is time to create your canape ensembles. Take a knife and thinly spread some cream cheese across your chosen base.
Step fourLightly lay your smoked salmon across each of your chosen bases. You'll find the cream cheese works as a delicious addition and handy adhesion for your salmon.
Step fiveTake a scant teaspoon of caviar and place it on top of your salmon. Garnish your final product with a sprig of dill, salt, pepper and voila!
Step sixArrange your final products onto a platter and serve to your guests alongside a tall, cold glass of bubbly.