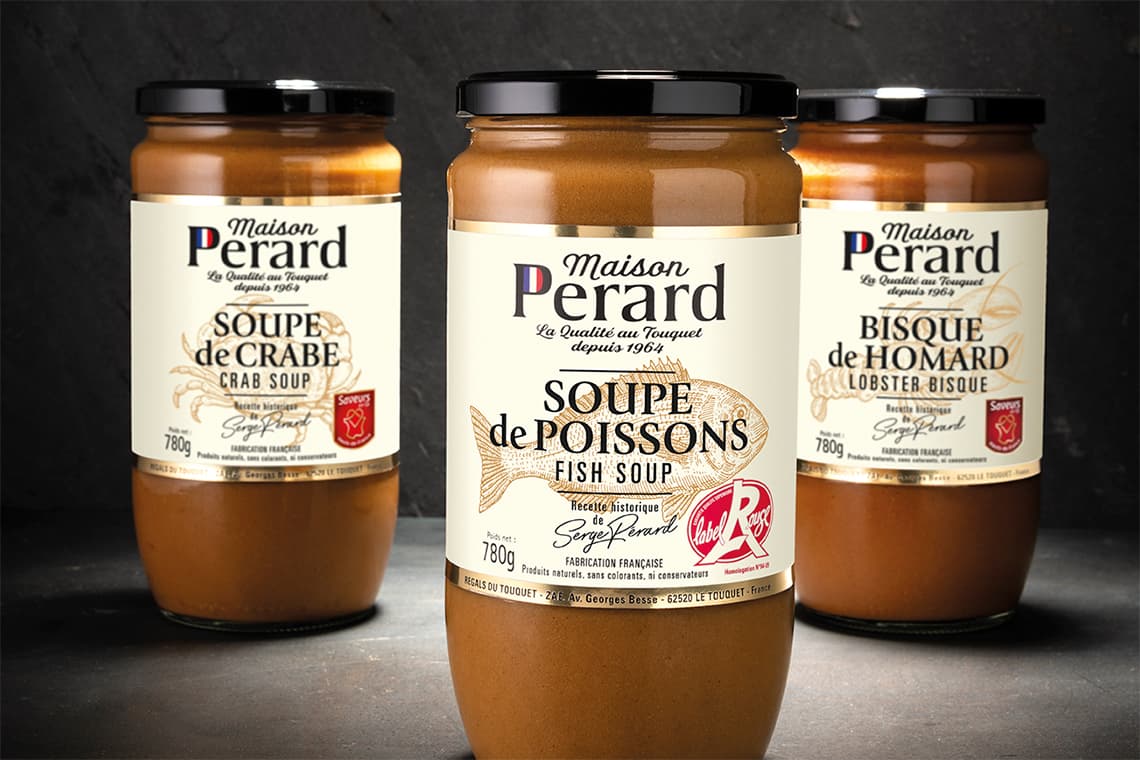 Maison Perard – La Qualite Au Touquet Depuis 1964
Being of French heritage, we are well aware of the Perard soup and its deliciousness long before founding The Good Food Network in 1996.
Hence it seemed natural when we started trading to make the Perard fish soup range one of our first product choices!
This article has all you need to know on Maison Perard and their soups and we are sure you'll be wanting to try it for yourself by the end!
The History of Maison Perard
1939
The story begins during the Second World War, when Serge Perard had the idea of picking up a few pieces of fish from the port of Boulogne-Sur-Mer.
A fine cook, he concocted a nourishing fish soup.
In the subsequent years, the young Serge Perard began selling his fish soup in local markets with his Father.
1963 
Serge Perard opened the first 100% seafood restaurant in Le Touquet.
After taking time to further improve his fish soup recipe with the addition of saffron, he added it to the restaurant menu proving to be an instant success.
1964
Serge Perard In His Prime!
Maison Peread was commercialised, and Serge set about setting up a bottling plant to prepare his fish soups on a national scale.
It took over two decades to really turn the Perard Soup range into the well-known brand it has become, with some new additions along the way of course.
But now the Perard soup range is a household name in France from North to South hence his boast "toute la France en veut!" (all France wants our soup!).
1994
The Perard cannery was modernised.
2010
Their fish soup was awarded "label rouge status" (more on this below but essentially a sort of "order of merit" in fine foods);
2020 
Maison Perard was bought by the Allouchery Family.
2021
Anne-Sophie Allouchery now runs the company with great dynamism, enthusiasm, and ideas, including the development of new recipes such as the mussel soup!
With the constant commitment to continuing to prepare a high quality and flavoursome French fish soup.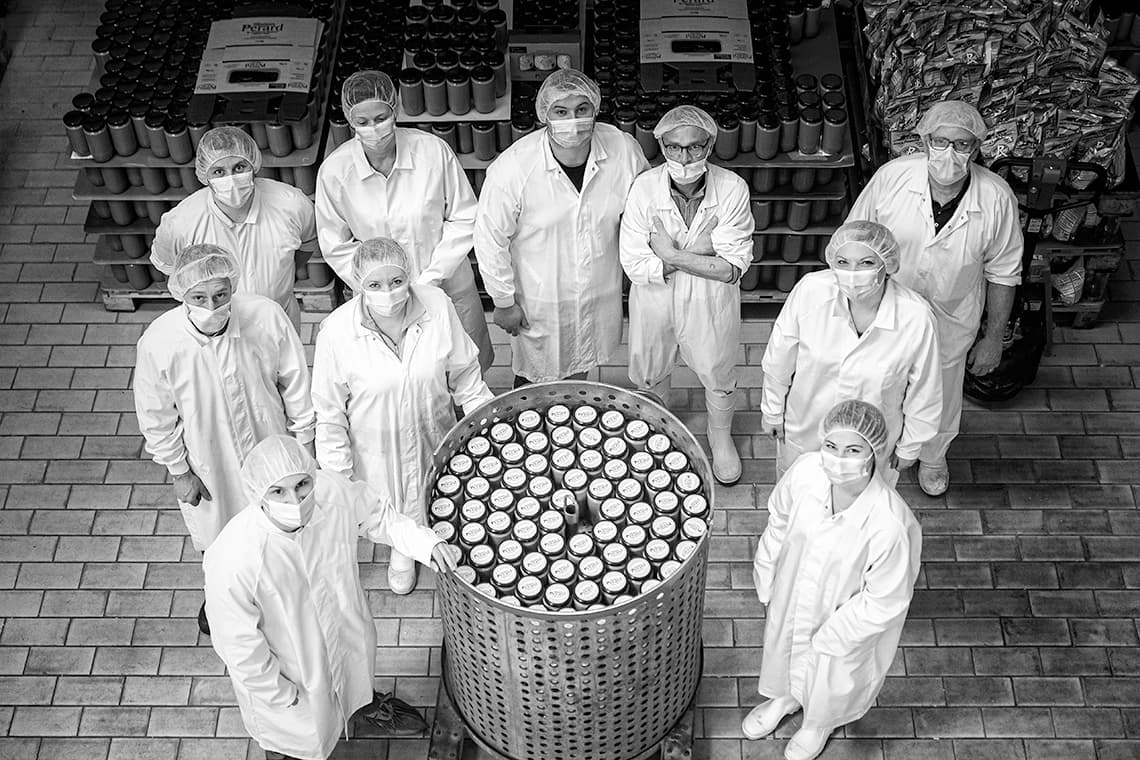 2023
Now the Perard soup range is a household with everyone being after this infamous fish soup in France from North to South. With Sophie being the Modern face of Maison Perard!
Anne-Sophie has since built on the Perard tradition, but added her own imprint with a revamp of the packaging in 2021, and creation of new recipes (the lobster soup became a lobster veloute, same for their samphire soup, and a mussel soup has just arrived) and fine foods to accompany the soups, such as a range of organic salts.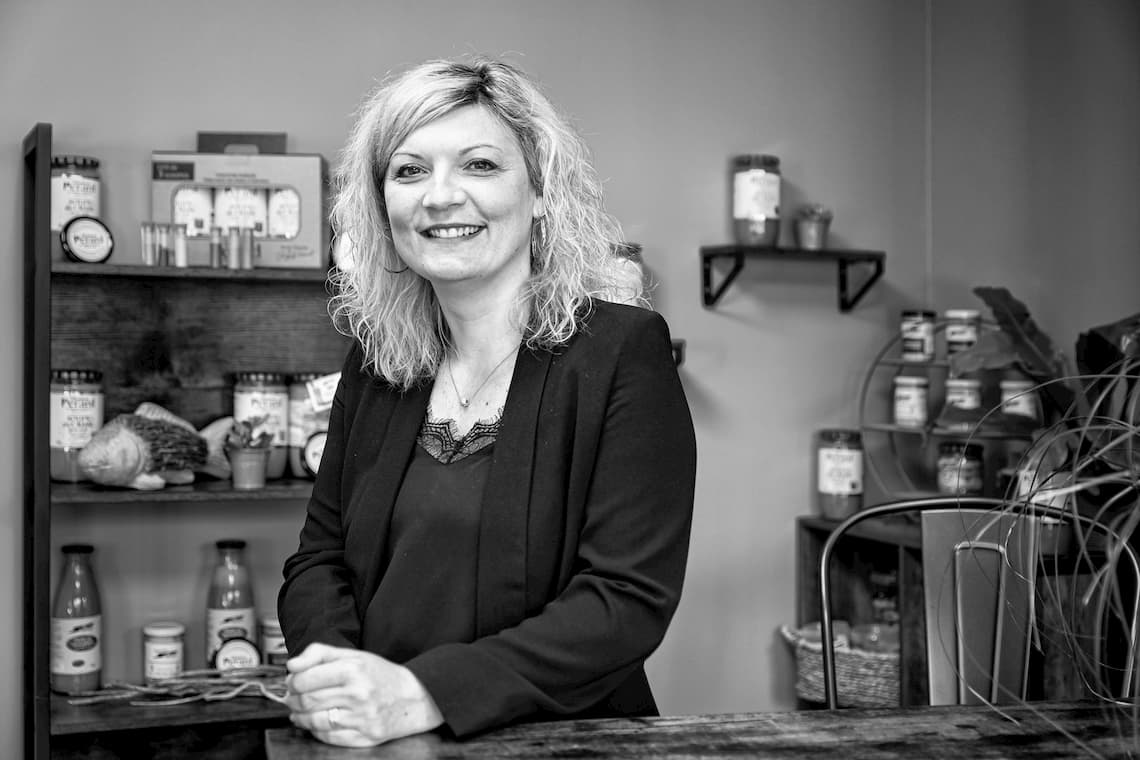 Maison Perard Values – Above All A Commitment To Quality
The heart of the success of the Perard fish soup range has been the constant emphasis on sourcing high quality fresh ingredients.
Based in Le Touquet, Maison Perard is conveniently situated just a few miles away from Boulogne Sur Mer, one of France's foremost fishing ports, giving it access to abundant supplies of very fresh fish.
Saffron – another important ingredient in Perard fish soup – Maison Perard use Grade 1 (the best their is) saffron stamen rather than the cheaper saffron powders frequently used in the food industry. This makes a difference to the overall flavour of the soups, with a much more delicate flavour.
It is also worth mentioning as an aside that all the Perard soups are 100% natural and gluten free. And for something which tastes so good, both nutritious but surprisingly low in calories.
Since we added the Perard range to The Good Food Network back in 1966, the consistently high quality of the Perard range has proven to make it a best-seller even to this day.
Perard Fish Soup – Soupe De Poissons
The original Perard soup and best – seller in the range remains the Perard fish soup. This fish soup is prepared using high quality, ultra fresh fish obtained from the neighbouring fishing port of Boulogne, spices and saffron.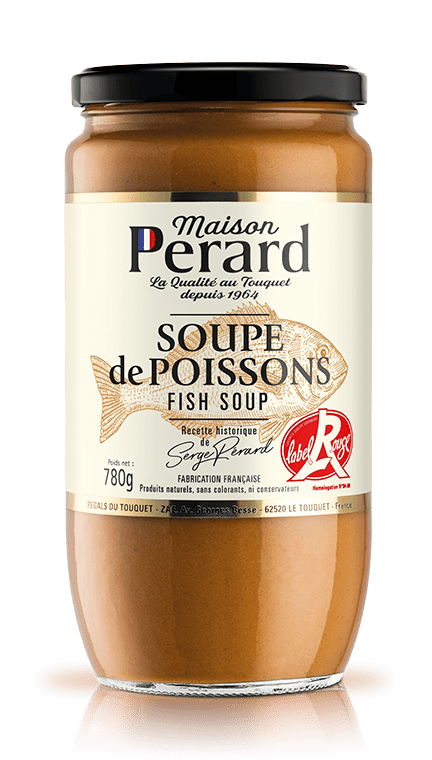 Perard fish soup has been awarded Label Rouge status.
What does this mean?
Label Rouge is a French distinction awarded to food producers, which refers to products, which by their terms of production or manufacture have a higher level of quality compared to other similar products usually marketed.
A "best in class" award if you will.
In the case of Perard fish soup, we feel the main stand out points are that it is prepared with 40% fresh quality fish, 100% natural and not padded out with endless vegetables and additives. So it is very genuine and flavoursome.
We feel that the awarding of "Label Rouge" status is more than justified. We have tried many fish soups over the years, both professionally, and also on privately during holidays in France. And although we are occasionally enthused by the novelty of a soup in a small seaside town that we have never tried before; on a consistent basis Perard fish soup remains one of the best French soups we have ever tried, and the quality and flavour are very constant. It is one of our oldest and best -selling ranges with some of our older customers having ordered these for decades. And each time we serve Perard fish soup to friends, it is always warmly welcomed!
And if you want a single serving, the Perard Soupe De Poissons is also available in one portion jars.
How Best To Enjoy Perard Perard Fish Soup?
To enjoy Perard fish soup in its simplest form, simply shake the jar, open it, pour contents into a saucepan, and warm it gently until it is hot; serve and enjoy.
It's worth mentioning at this point that all the Perard soup ranges (fish, crab and lobster) are great to serve when entertaining. They taste better than what you will prepare at home (also 100% natural and gluten-free) and simply require warming up, and so they take the effort out of at least your starter, and you are pretty much-guaranteed something good. We've never yet served Perard to Family and friends and not had happy guests!
If you want to make your starter look or feel more special, you can add Perard fried bread croutons and garlic rouille  to your soup to taste once it is served. And often in France, people add grated Emmental or Comte cheese.
A last way to enjoy Perard fish soup was suggested by Delia Smith in her 2008 cookery book "How To Cheat At Cooking" (which suggests easy ways to turn out good meals!). In it's simplest form it involves cooking pieces of white fish, shellfish, and prawns in Perard fish soup to create a sort of mock bouillabaisse. We've tested it, and the result is good!
Perard Fish Soup Storage
Another huge advantage of the Perard soup range – they are ambient (do not require refrigeration) and typically come with a couple of years life as they are pasteurised and air sealed. This makes storage easy (a kitchen cupboard, your garage), and you can just keep them for when you are short in time but still want a good meal or serve them when you have Family and friends round. Every time we have served Perard soups, they have been appreciated. And when once, for a change, we fairly recently served another brand, the comment we received was "The Perard soups are good". Point taken!
Perard Crab Soup – Soupe De Crabe
Perard crab soup is one of our favourites in the range. It very much tastes of crab as it should and when we have tasted this (we conduct tastings every so often to revisit products), even some of our staff who are not keen on crab enjoyed it. Just try it is all we would say!
Perard crab soup has a fine flavour and we feel is at its best just warmed gently until hot and served as it is! Nothing more needed. If you like you can add fried bread croutons and rouille but these are hardly needed and we suggest you just focus on the taste of crab.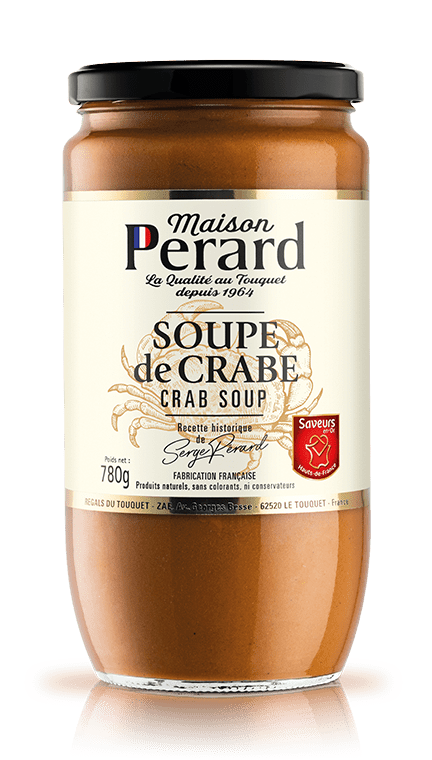 As with the Perard fish soup, the crab soup is also available in one portion jars for if you live alone.
Perard Lobster Bisque – Soupe De Homard Perard
Anne-Sophie and her team have tweaked the lobster soup recipe and relabelled it "bisque de homard" (lobster bisque) and the main change as far as we can tell is just the addition of some cream.
Perhaps our palate is not fine enough, we can't tell any real difference, but found it delicious before, and find it delicious now!
It is the luxury end of the Perard range, and if you are inviting, always perceived as a real treat.
Nothing needed to this soup, just warm up and enjoy! And like all the Perard range available in one portion jars.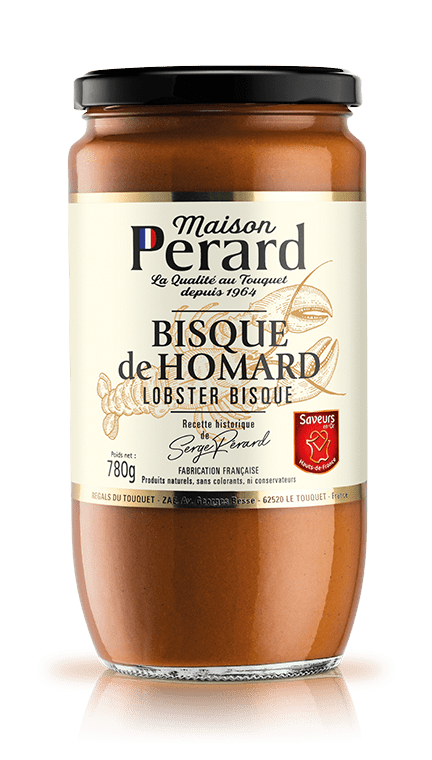 Perard Veloute De Moules
Maison Perard had started work on a mussel soup recipe some years ago, and Anne – Sophie and her team have brought this recipe to fruition and introduced it to their range. We tried it, and like it, and as far as we know, it is the only mussel soup (veloute de moules to be exact!) available in France or the UK.
Like with the other Perard soups, just warm up and enjoy.
Another way which we tried and feel works well with this recipe is if you are preparing moules marinieres, prepare these as you usually would, but add a few cups of the Perard veloute de moules to the mussels as you steam them. This marries very well with the other flavours, and the mussel juice from the fresh mussels only adds to the delicate flavour of this soup.
Again the mussel veloute is available in one portions jars as well!
A new addition to the Perard range, which we have sampled and happy with! So a little about this langoustine bisque!
It has a deep colour, the smell when you warm it up and taste when you eat it is overwhelmingly of crustacean and it is very seafoody with a fine flavour.
The delicious bisque de langoustine is also available in one portion format.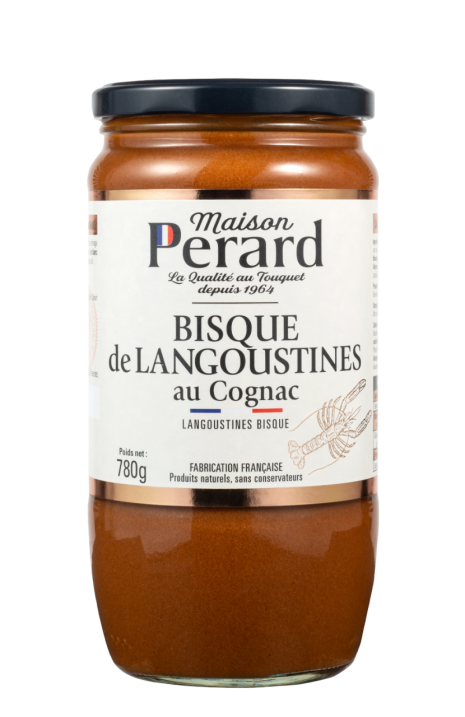 We have also put a link to the Maison Perard website (please click here to view), which may be of interest!