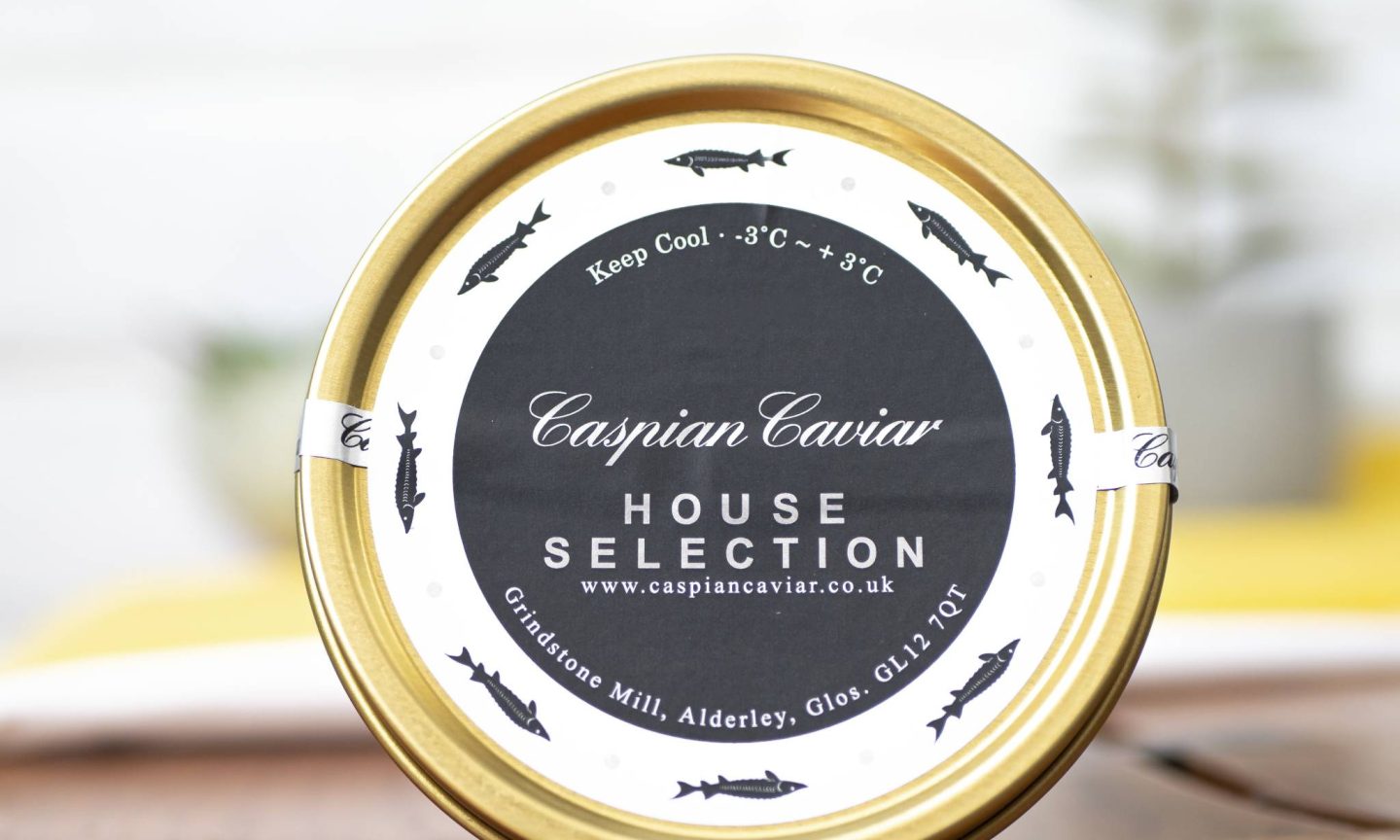 The Caspian Caviar Range – A Guide To Our Different Types Of Caviar
We first thought of selling caviar 8 years ago (back in 2015) as a natural complement to our luxury French food range. After a year of searching for a good quality supplier on and off (running a small company seems to take a disproportionate amount of time!) with not much luck, we stumbled across Angus at Caspian Caviar – and have never looked back! Angus and his team source a high quality range of fairly priced caviar (for the quality), are very knowledgeable, helpful, friendly – and our customers love this range if we go by the amount of re-orders!
As there are different types of caviar to choose from, we have put some factual details as well as our own thoughts and comments on each of the caviar types we stock. And if we have not thought of something, please let us know!
Caspian Caviar Royal Beluga Caviar
Caspian Caviar introduced their current royal beluga caviar back in 2013, and ever since it has proved a customer favourite and best seller, and is one of the finer beluga caviars we have tried and a great introduction to very good caviar if you are willing and able to spend a moderately large amount. 30g is enough to give you a taste, 50g is a decent serving per head, anything more is sheer indulgence!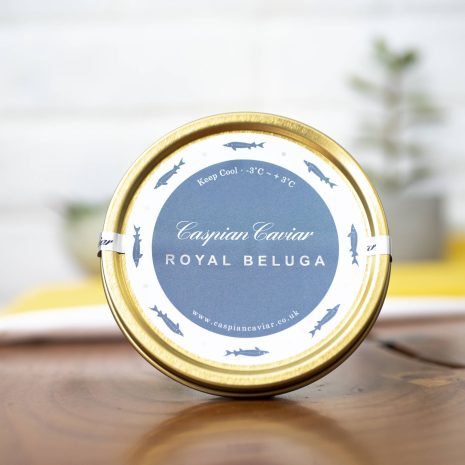 Our royal beluga caviar comes from a spring fed, out door farm in northern Italy where the attention to detail is phenomenal. The water quality, temperature, food and processing is all rigorously monitored, and the results are plain to taste.
The eggs are very dark grey in colour, 3mm in diameter – a burst of flavour, a fine creamy taste … we are in a good mood every time we try this caviar. It really is a pleasure to eat and puts the world to rights!
Beluga Caviar has the largest egg size of all caviar and is the most expensive of the sturgeon caviars. This particular Royal Beluga caviar is from Huso Huso/Baerii (Beluga/Siberian) hybrid stock, which is the mainstay of farmed Beluga production as it reaches maturity some 10 years quicker than a pure Beluga sturgeon.  The caviar has the egg size and taste expected of Beluga, but not the price.
Customer feedback has so far  been 100% positive which is not easy to achieve and underlines just how good it is. If you are willing to spend a fair amount on caviar, we highly highly recommend our royal beluga.
Caspian Caviar Special Reserve Beluga (Huso Huso) Caviar
We don't always stock pure Huso Huso Beluga caviar due to the difficulty of finding excellent quality caviar at a reasonable price. We have tasted many pure Belugas that don't look the part, don't taste the part, or are offered at a silly price. We did like our last offering but sadly it has now moved into the "silly price" bracket.
So we have found a new supplier in Greece. This example really does tick all the boxes. Do take a look at the picture of the caviar pre-tinning. It really is very impressive on the eye and tastes gorgeous as well.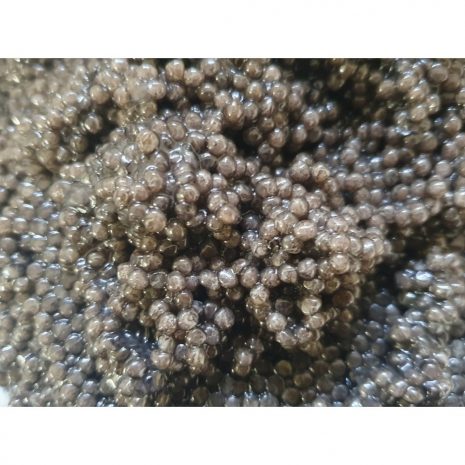 The eggs are very light grey and 3-3.5mm in diameter. What does it taste like? It has a delicate, creamy subtlety that is a joy on the palate. It should be savoured with few additions, preferably enjoyed on its own.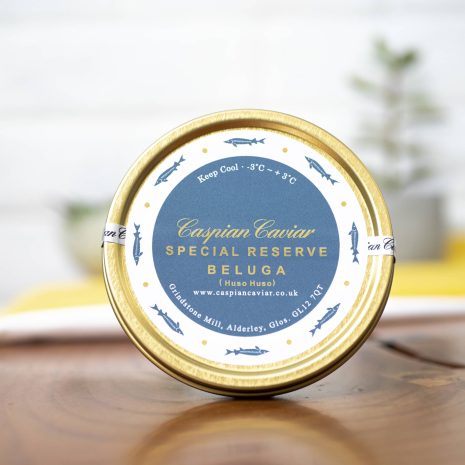 Pure Beluga (Huso Huso) Caviar is not widely farmed as it takes 18-20 years to mature. Even after all that time, there is no guarantee that the fish will produce really good caviar. We have seen many poor quality examples but were thrilled to be able to source this example.
Our comments? A good example of pure huso huso caviar and our priciest caviar as it takes so long for the sturgeon to come to maturity.
A 30g tin of huso huso special reserve beluga caviar will already give you an idea of what it's like. That said, if you did find this a little too expensive, the royal beluga (see above) is so good that we would not hesitate to recommend it!
Caspian Caviar Oscietra Caviar & Royal Oscietra Caviar
Our Oscietra Caviar is sourced from a cold water, out door farm in northern Italy. The good sized egg makes it very impressive to the eye. The eggs are about 3mm diameter (large for Oscietra) with a colour varying from a rich golden brown to dark tobacco brown. This Oscietra has a mellow nutty flavour, that lingers long on the palate and longer in the mind, just as a really good caviar should. Like the Royal Beluga, it just puts you in a good mood! Why, we could not say, but it does!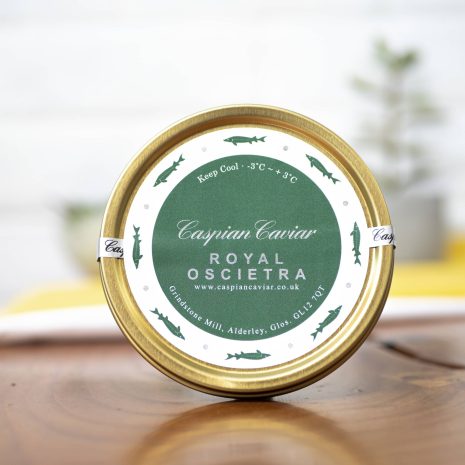 Due to our close association with the producers, we also have an allocation of their very best Oscietra – the Royal Oscietra Caviar. It has the same fantastic taste as the normal Oscietra, but the Royal Oscietra Caviar is the cream of the crop and is the largest eggs of the harvest. A truly great caviar.
Oscietra Caviar is one of the famous Caspian caviars and comes from the Oscietra (aka Russian) Sturgeon, which has the Latin name of Gueldenstaedtii. It is farmed in various European countries as well as else where in the world. However, it is amazing how the flavours vary from country to country and farm to farm, although it is the same type of sturgeon. We have carried out extensive tastings and are convinced that there is not a better Oscietra on the market, and certainly not at this price.
Caspian Caviar House Selection Caviar
It may be tempting to lament the decline of wild caviar, but instead lets celebrate the rise of sturgeon farming and the improvement in skills and farming techniques. Without such an improvement, it simply would not be possible to offer you caviar of this quality at such a remarkable price.
The eggs are similar in size to Oscietra, but are rather darker in colour, some verging towards black. The caviar is lightly salted and has a mild, clean taste. It is surprisingly complex, with flavours of the sea sprinkled with citrus undertones. Best of all, at this price, you can have lots of it!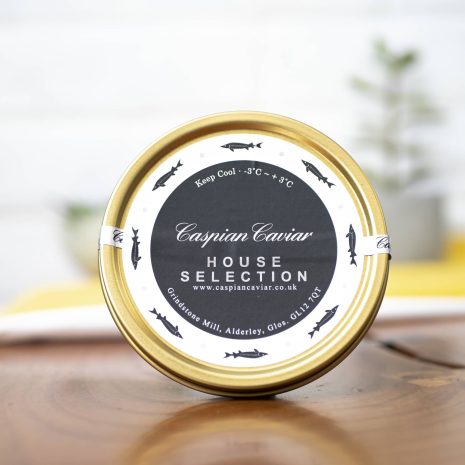 Angus and his team have taken a tasting tour of caviar from lesser known sturgeon breeds being farmed across Europe in the search of a quality, low cost caviar to offer to you as our House Selection. In the past, we have offered various interesting hybrid caviars as House Selection. However, we have now been able to do a great deal with our friends in northern Italy and offer this pure Siberian (Baerii) caviar as House Selection. Long standing customers may recall it as it was our original Sibirskye.
At the lower end of the price scale, caviar can be rather a disappointing experience as it can be rather bland and tasteless. Some appears to be no more than the by-product of White Sturgeon meat production. This is not the case with our House Selection – the only complaint we have received is that it has too much complex flavour for a caviar of this price!
Our comments? A superb and very affordable caviar which will not disappoint and a best – seller!
Caviar Special Offers At The Good Food Network
We regularly showcase and promote one caviar from the range for our regular customers on our caviar special offers page – and this can be an interesting way to try a new caviar, recommended by us, with usually not insubstantial savings.