How to Serve, Eat and Store Porcini Mushrooms
Porcini mushrooms are a staple of French cuisine. They work well in many French dishes, including French onion soup, quiche, and souffle, or you can simply enjoy them as a side dish on your own.
However, unlike your standard mushrooms, they only taste as good as you store and serve them.
Follow this Good Food Network guide and learn the right way to store, serve and eat Porcini Mushrooms. Then thank us later.
How to store Porcini Mushrooms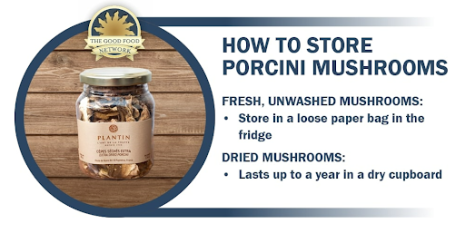 How porcini mushrooms should be stored depends on whether they are fresh or dried.
Fresh, unwashed porcini mushrooms should be stored in a loose paper bag in the fridge. This will allow the mushrooms to breathe and keep them fresher for longer. These typically only last a few days, so don't wait to cook them.
The dried Porcini Mushrooms (Like these Porcini Mushrooms from us) can be stored for a good year in a cool, dry cupboard. The long used-by date makes them the perfect option if you're someone who struggles to have time to constantly pick up fresh produce.
How to serve and eat Porcini Mushrooms
Serving Porcini Mushrooms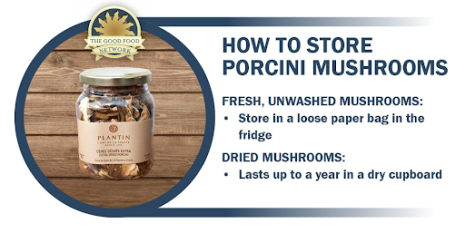 Porcini Mushrooms can be served in several ways, depending on the type of recipe you're cooking and whether they're fresh or dried.
If you're cooking with fresh mushrooms, clean them thoroughly with water and then pat them dry. If you're cooking dried mushrooms, you'll need to soak them in tepid water for 30 minutes to hydrate them and remove any grit. You can then chop the mushrooms the way you prefer.
Cook the mushrooms until they turn brown and soft, and sprinkle salt to enhance the flavour. These can then be mixed into your recipe or served as a side dish in a serving bowl.
How to eat Porcini Mushrooms
There's no 'one way' to eat porcini mushrooms, as they can be served with many dishes.
You can safely eat their caps and stems, but, as a rule, never eat them raw as they can cause your stomach to be upset.
What to serve with Porcini Mushrooms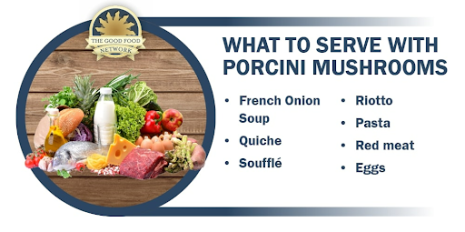 Porcini Mushrooms add a meaty richness and earthy note to dishes. We've listed some of our favourite combinations below.
French Onion Soup
French onion soup is traditionally made with beef stock, which is a great-tasting combination with the sweet onions. But if you're looking for a meat-free alternative, porcini mushrooms will do the trick. When steeped in hot water, the mushrooms form a full-flavoured broth that adds an extra layer of flavour without ruining the taste of the onions.
Quiche
A classic French Quiche with porcini mushrooms is simply marvellous. The nutty taste from the mushrooms adds a great depth of flavour to the quiche and works wonders if you're looking for a meat-free alternative. If you're using fresh mushrooms, they need to be sautéed first because lots of water releases when they cook, which will result in a soggy quiche.
Soufflé
A porcini soufflé is a wonderful French starter or light lunch that will give your dinner party a real 'wow factor'. The strong nutty taste from the mushrooms combined with creamy cheese and smoked bacon will leave your guests wanting to come back for more.
Risotto
Adding porcini mushrooms elevates the flavour of the risotto to another level. The mushrooms in the soaking liquid infuse the flavour into the rice during cooking. For an added treat, grill some extra porcini mushrooms in butter and serve them on top of your risotto.
Pasta
Porcini Mushrooms are so rich and delicious that you can easily make a Mushroom Pasta dish with them and be more than satisfied. However, we'd recommend chopping them and then sauté them with some chicken, tomatoes and spinach to create something that is truly magical.
Red meat
Dishes that contain red meat, such as beef stews or stracotto (pot roast), are great for cooking with porcini mushrooms. Since these dishes typically have a longer cooking time, it allows their rich nutty flavours of them to seep into the meats and the stews.
Eggs
Sometimes, it doesn't need to be complicated to be delicious. Good ingredients cooked simply can make the best dishes. That's why we'd recommend having them in a good old-fashioned Omelette.
What to drink with Porcini Mushrooms
An earthy mushroom-like Porcini pairs well with fuller-bodied wines, such as a barrel-aged chardonnay, pinot noir or cabernet sauvignon.
Bon Appetit
You probably get the idea that we love porcini mushrooms! They are a delicious ingredient that goes superbly with classic French dishes and also non-french foods.
If you decide to buy fresh or dried porcini mushrooms, keep note that:
Fresh mushrooms should be eaten as soon as possible.
Make sure you clean fresh mushrooms thoroughly.
Dried mushrooms need to be soaked in tepid water for 30 minutes to hydrate them and remove any grit.
Never eat porcini mushrooms raw, as they can cause stomach upset.
Ready to learn more about French food? Check out our other posts on How to Store, Serve and Eat Foie Gras & How to Store, Serve and Eat Cassoulet