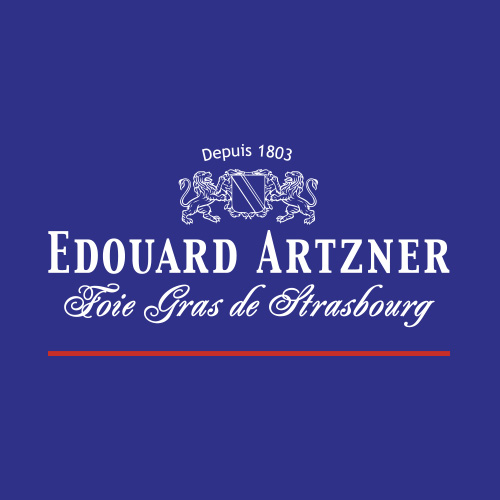 Edouard Artzner – Finest French Foie Gras Since 1803
We first stumbled across the Edouard Artzner range around 15 years ago (if not more) whilst returning to the UK from Nice airport. Mr Paul Gimblett, The Good Food Network founder and always on the lookout for new French fine foods, was looking around a fine food gift shop at the airport and was drawn to the attractive packaging of the Edouard Artzner foie gras range.
Upon our return, we contacted them, asked for a price list, and we were away! So a little about them!
Edouard Artzner are based near Strasbourg, in the Alsace region of Eastern France and were founded in 1803, when Philippe Edouard Artzner (a pastry chef and caterer by trade) opened a shop in the city centre specialising in preparing foie gras, pates and terrines.
In 1850, his son Edouard took over the business and started cooking foie gras in terracotta dishes and was one of the first who pioneered preserving foie gras. Until then foie gras was cooked fresh and eaten and had a very short life.
Edouard discovered that after cooling, a layer of fat covered the foie gras and gave it a shelf life of 3 weeks, which was new at the time. The success of this preservation technique, along with the growing reputation of the quality of their foie gras, saw Edouard Artzner established as one of Frances most reputed foie gras producers, with a prestigious list of customers.
Edouard Artzner have carried on with this tradition today. Naturally foie gras preservation techniques have advanced further so that many of the foie gras in their range now have a couple years life.
The company has also diversified into pates, terrines, raw duck based products for caterers and luxury restaurants.
All the Edouard Artzner range is excellent. We have chosen to feature just their foie gras, as we tend to focus on one supplier for one product.
We've tasted many foie gras over the years and rate the Edouard Artzner range some of the best we have ever tried. Their mi-cuit foie gras range especially (not always available as these require chilling) is particularly good!