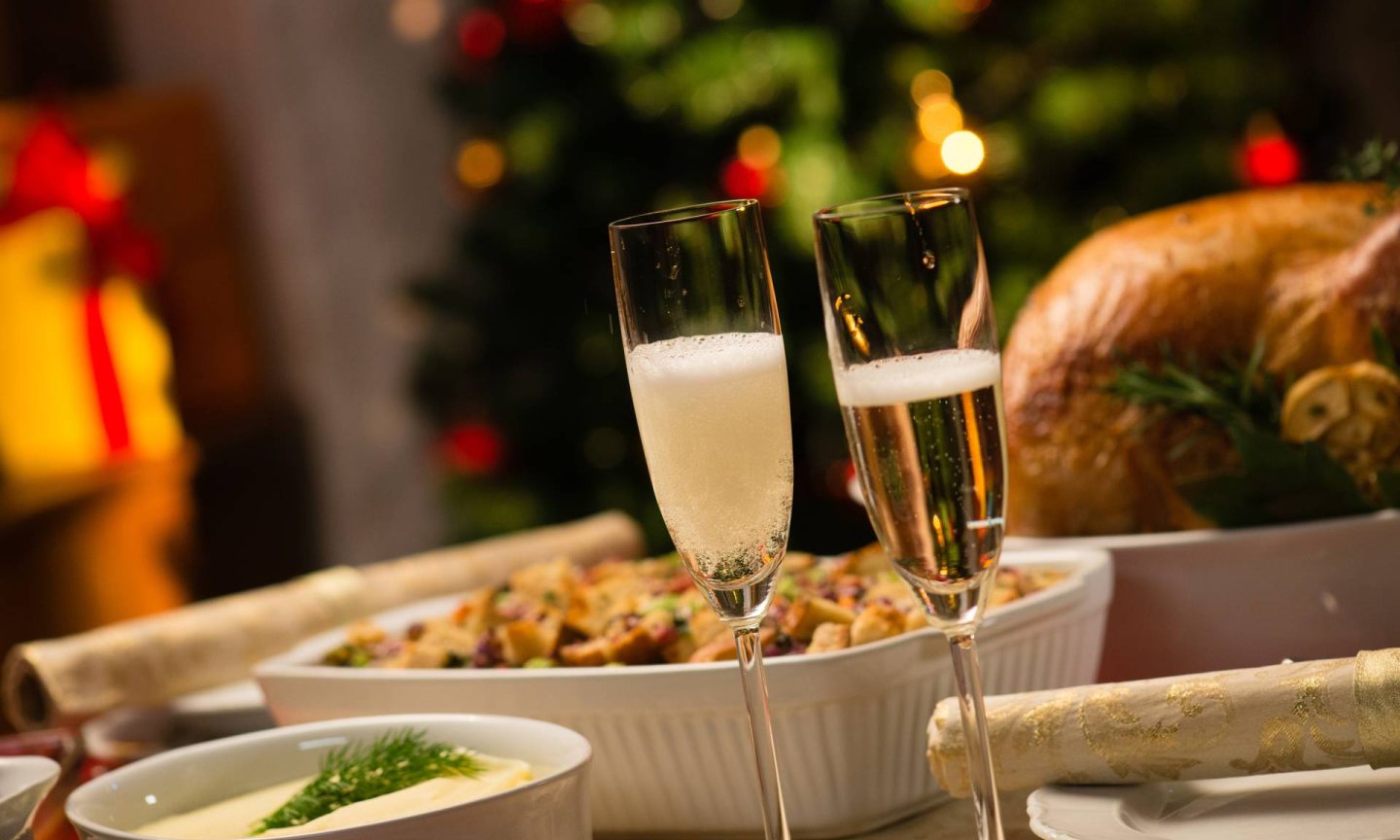 Celebrate This December With A Traditional French Christmas Menu 
The French really push the boat out at Christmas. They don't do a simple sit-down meal – it's a multicourse extravaganza with Champagne, nibbles, caviar, salmon, and oysters. Emphasising the finer things in life like food.
Recreating a French Christmas menu at home takes a bit of time and effort, but the end result will be a proper Christmas feast that you'll never forget.In this post, we've pulled together a traditional menu that will allow you to experience "le jour de Noel" as the locals do.
So put your apron on, fire up "le four" and take your Christmas dinner up a few notches.
1st Course: "L'Apéro" – Appetiser & Champagne
A French Christmas dinner takes place on Christmas Eve and not Christmas day.
This 1st of 5 courses is given to get everyone in the festive mood and give your guests a taste of what's to come throughout the night.
This first course usually begins with "L'Apéro", consisting of a selection of nibbles/appetisers, washed down with a bit of Champagne.
Traditional french appetisers for Christmas
Smoked salmon served on blinis
Prunes wrapped in bacon
Gougeres (baked cheese puffs)
Gruyere cheese twists
Baked scallops with breadcrumbs
Canapes with charcuteries or cheese
Now for the best part – the champagne! If you're looking to keep the budget down, then a bottle of Brut Champagne Pierre Courtois will always do the trick, but if you're happy to splash the cash, then a bottle of Michel Guilleminot is a french classic that will compliment your appetizers perfectly.
2nd Course: "ENTRÉE" – Starter
Once all your guests have arrived, everyone can move to the dining table and wait for the starters.
Fun fact: In the US, the word ''Entree'' refers to the main course, but the French refer to it as the opening part of the meal. 
Traditional French starters for Christmas
When it comes to a French starter, it doesn't get much more traditional than foie gras.
This well-known delicacy is often baked in a crust, which may be served hot or cold. The pate or pastry crust is lined with jelly, and the foie gras is prepared with brands, seasoning, and truffles. It may also be served puree with bread or toast and jelly.
While foie gras almost always makes an appearance at a French Christmas dinner, the main ingredient – the liver of a goose or duck is not going to float everyone's boat, so there are a few other staples to choose from
French onion soup or chestnut soup with croutons
Escargots (snails cooked in butter, garlic and parsley)
Caviar with canapes
Oysters
Salmon tartare
Lobster tails
3rd Course: "Plat Principal" – Main Course
Once your guests have finished off their starters, we're ready for the main event.
Like most of the world, a traditional french main is, more often than not, a turkey.
But with a french twist!
Instead of the typical sage and onion stuffing we brits eat, the French usually serve it with chestnut stuffing.
The other stand-out difference is that Britain's most divisive vegetable – the brussel sprout, isn't a thing when it comes to a Christmas dinner. That might be a shocker for some, but instead of brussel sprouts, the french swap it out for roasted chestnuts.
Traditional French mains for Christmas
While turkey is by far the most common French main, some families prefer
Pork roast
Ham
Roasted beef
Along with the main meat dish, it will come with some side dishes that include:
Cauliflower gratin
Roasted eggplant
Mushrooms and potato casserole
Green beans
Baked broccoli with lardons
Haricots verts
Duck fat potatoes
4th Course: "Fromage" – Cheese
Once your guests have powered through the main event, we get into the 4th course. This is when your guests will start to feel a little full and doubt their ability to make it to the finish line… but as the champagne continues to roll out, they'll get a breath of bravery to tackle the cheese dish with full force.
No French menu is complete without a cheese board. You might think this should be an appetiser – but no, this dish is typically served just before dessert.
Traditional French cheeseboard for Christmas
Goat cheese
Roquefort
Camebert
Comté
Served with good quality french bread (baguette, country bread or plain d'épices)
Salad dressed with vinaigrette
5th Course: "Le Dessert" – Dessert
Once your guests have eaten all the seafood and birds they can imagine, and don't forget the cheese course! Then there are no less than 13 desserts waiting at the end. No French Christmas would be complete without their famous pastries, and there's always a little room for "Bûche de Noël," a rich chocolate log baked and cooled in genoise around a buttercream frosting – Let's be honest, that sounds delicious.
Traditional French desserts for Christmas:
Pistachio and hazelnut nougat
Chocolate truffles
French macarons
Madeleines
Creme caramel
Chocolate souffle
French chocolate mousse
Summary
Celebrating Christmas the French way might seem complex and extravagant, but it's actually meant to encourage a long relaxing meal, giving you time to enjoy great food, great company and lots of laughter. So crack the champagne, and let's make this Christmas one to remember!
If your looking for ingredients, then you couldn't be in a better place. Here at Good Food Network, we stock the finest traditional gourmet French food, from foie gras, caviar, French seafood and even fine food gifts for your loved ones.
Ready for your next read? Check out our recipe for Seared Foie Gras and learn how to nail it the first time around this Christmas.