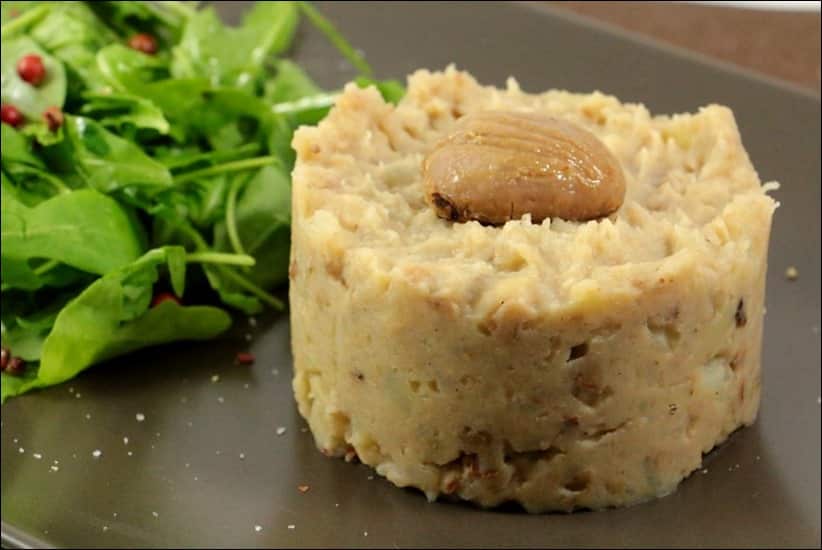 Puree De Chataignes (Chestnut Puree)
A lovely little recipe, which makes use of the Clement Faugier cooked and peeled chestnuts, and just a spoonful of their sweet crème de marrons!
Chestnut Puree Ingredients
2 tins of Clement Faugier cooked and peeled chestnuts 480g total weight
Potatoes 300g
Pouring Cream (whipping cream works well) 200ml
Butter 120g
Clement Faugier Sweet Chestnut Puree 2 – 3 tablespoons
Salt  To Taste
Chestnut Puree Recipe Method
Peel your potatoes and cut them into cubes.
Bring a saucepan of water to the boil, add your potatoes, and the chestnuts and cook for half an hour.
Drain the potatoes and chestnuts in a colander.
Put them in a food blender, add the cream and butter and chestnut puree.
Blend all the ingredients into a smooth puree.
Salt to taste.
Chestnut Puree Serving Suggestions
Chestnut puree works well alongside most cooked meat dishes and roasts.
How Long Can You Keep Chestnut Puree For?
You can store this mixture in the refrigerator for up to a week.