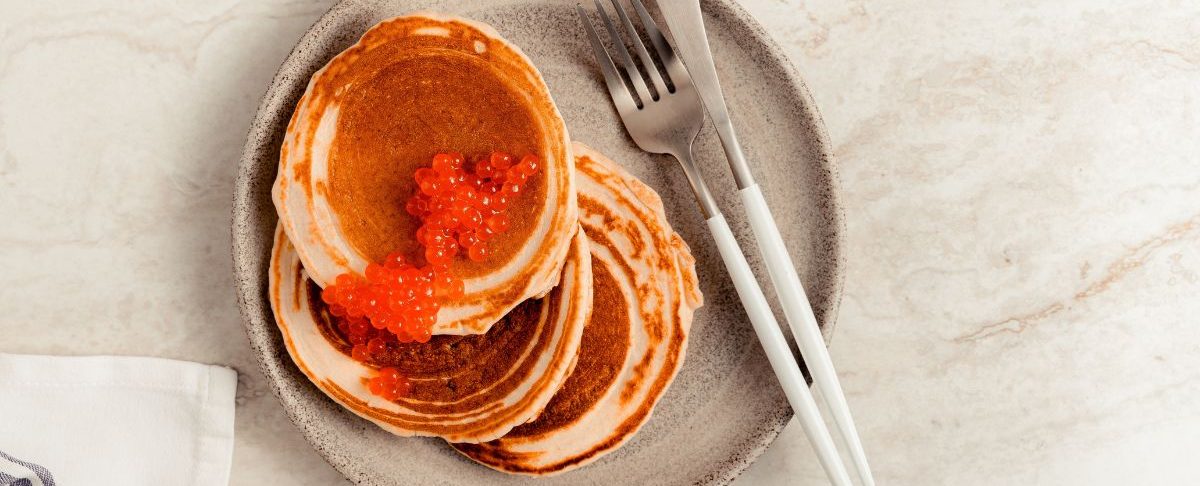 Blini And Caviar Recipe For The Perfect Dinner Party
Prep time: 20 mins
Cooking time: 
Serves: 6
Difficulty: Easy
Blini and Caviar is the epitome of luxury and indulgence, making it the perfect choice for a dinner party. Blinis are small, savoury pancakes, and when topped with a dollop of sour cream and a generous spoonful of caviar, they become a delicious appetiser.
When choosing Caviar, go for high-quality, sustainable options like Beluga or Oscietra, as the buttery richness and delicate roes will really elevate the flavours of the blinis. 
With this recipe from the Good Food Network, you'll learn how to make Blinis and Caviar from scratch and how to assemble them for a stunning presentation. So get ready to wow your guests with this luxurious and delicious appetiser!
Ingredients
255g of plain flour

3 tsp salt

3 pinches of nutmeg, grated

3 eggs

3 egg yolks

450ml of Arla Cravendale whole milk

350g mashed potatoes

75g cream cheese

Clarified butter or vegetable oil 

105g of caviar

300g of sour cream 
Method 
Step 1 
First things first, grab a mixing bowl and add in some flour, salt, and nutmeg. Give it a quick stir to combine everything.
Step 2 
Then crack an egg,  separate the yolk and add it into the bowl and mix it all up until it's well combined.
Step 3 
Gradually pour in some milk while whisking the mixture to create a smooth batter.
Step 4
Now, grab the mashed potatoes and heat it up in a pan or microwave. Make sure there are no lumps in it!
Step 5 
Fold the warm mash and some cream cheese into the batter and mix it all up until it's well combined.
Step 6 
Cover the bowl and pop it in the fridge for at least 30 minutes to let the batter rest and chill.
Step 7 
Heat up a non-stick pan with some clarified butter or vegetable oil over medium heat.
Step 8 
Using a tablespoon, spoon some batter into the pan to make the Blinis. Cook until the bottom is golden, then carefully flip it over and cook the other side until it's nicely coloured.
Step 9
Once the blinis are done, place them on a kitchen roll to soak up any excess oil.
Step 10
Keep repeating the process until you've used up all the batter.
Step 11
To serve, put some caviar in a bowl over some ice and add a dollop of sour cream on the side.
Step 12
All that's left to do, is plate up the blinis and serve them with caviar and sour cream. Enjoy! 
Bon Apetit!
There you go. Whether you're making it for an appetiser at a dinner party or you just having some fun in your kitchen, our Blini and Caviar recipe is simple and easy to make. 
If you're looking for the perfect Caviar to compliment it, then take a look through our range of Caviar products. With a great range of Royal Beluga and Oscietra caviar, there's plenty to choose from.