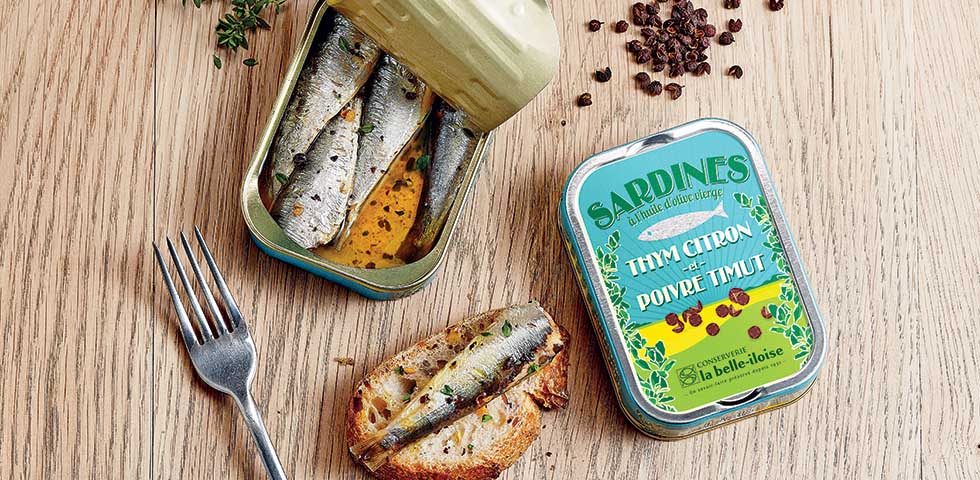 La Belle Iloise
La Belle-Iloise is famous throughout France for preparing very high-quality tinned sardines, tuna, mackerel as well as fish soups and lobster bisque. As we are starting to feature more of the La Belle Iloise range, we felt it might be interesting for you to discover a little about this company based in Quiberon, Brittany.
La Belle Iloise Timeline
1932 – The Beginning
La Belle-Iloise was founded in 1932 in the town of Quiberon, a fishing port in Brittany on the West Coast of France, by Georges Hilliet.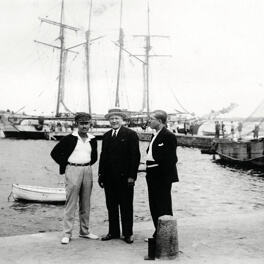 Georges started tinning fish on a small scale in Porta Maria, the harbour in Quiberon. This was an ideal location for a fish cannery as the town specialised in sardine fishing, which he had access to abundant quantities of fresh sardines, no distribution (impossible in those days) and port prices.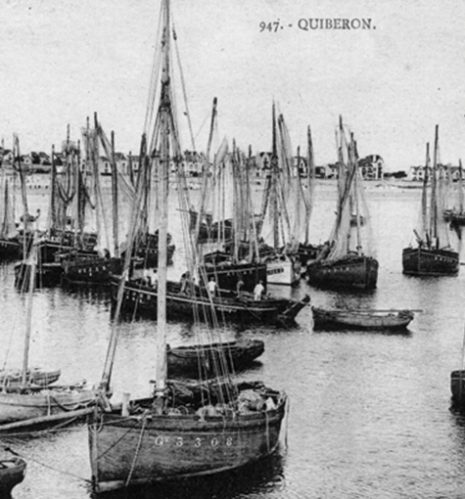 The company operated on a fairly small scale until the mid 1960s.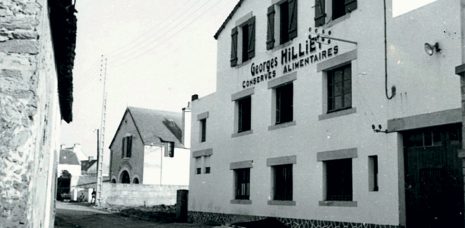 1960s – The Turning Point For Conserverie La Belle
Iloise which set it along the path we know today (high quality premium tinned fish on a fairly large scale) came in the 1960s. Mass distribution and the emergence of large supermarkets forced canneries throughout France to lower costs, which was achieved to some extent by compromising on quality and taking shortcuts.
This went against the values Georges Hillier wanted for his company and so he turned his back on volume accounts and famously said "I'll take my basket and sell my sardines at the beach if it comes to that!". It did not! Instead he chose to pursue quality and opened his first direct point of sales in Quiberon in 1967, within the cannery itself.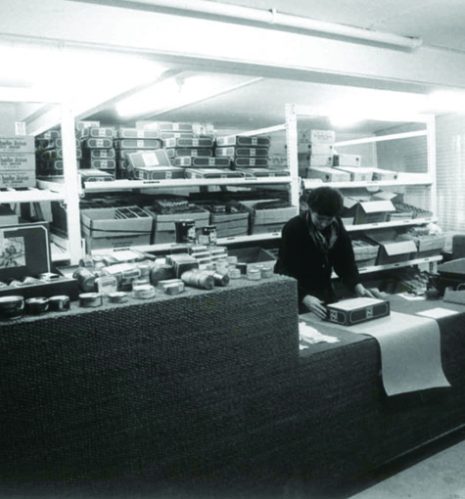 This would set up the future direction of the company which prioritised direct contact with customers and the development of a relatively dense network of shops selling La Belle Iloise range, especially on the Western flank of France – but this part of the companies history was developed more by his children and grandchildren as you will find out.
As part of the drive to establish itself as a premium brand in tinned fish, La Belle Iloise began developing the very colourful and attractive presentations it is now known for, as well as the elaboration of interesting and unusual recipes and flavour combinations, with the introduction in 1968 of Sardine Cream with Whisky, the first in it's line of gourmet spreads.
1970s – La Belle Iloise Became A Family Business
Georges had five children ( three sons and two daughters) who all joined the Family business.
In 1972 (forty years after the Cannery was founded, which shows that brands are not built overnight!) two of his sons Georges Hilliet  and Bernard Hilliet took over the company and opened a second store in Carnac, a tourist destination in Brittany.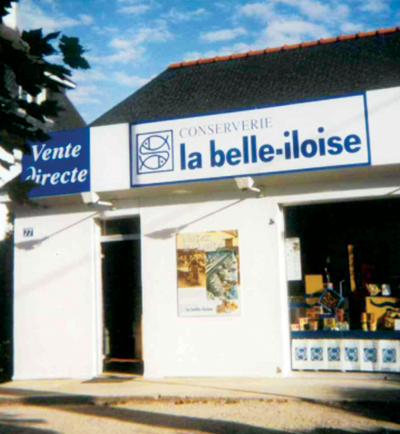 This first step beyond the Quiberon Peninsula was the beginning of what would become a considerable development of stores along the Western Coasts of France. Backed up 10 years in later, in 1982, by the development of a mail order system due to demand for La Belle Iloise range throughout France! So looking back now in the era of the online world, they were visionaries!
1990s – La Belle Iloise Relocated Into A Much Larger Factory
The success of direct sales via its network of stores as well together with its mail order business, transformed the company's organisation, essentially with a view to keeping this model, but scaling it. So in 1993, the Cannery relocated to a new, much larger and more modern factory (still located in Quiberon).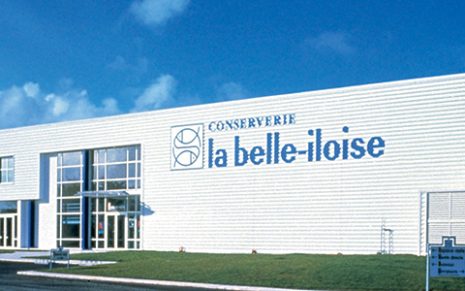 In 1996, Bernard Hilliet took the helm of La Belle Iloise and for the next decade and a half developed the network of stores as we now know it.
2000s – La Belle Iloise Reached New Heights
As of 2011, La Belle Iloise's points of sale were present along the entire French coast, from Le Touquet in Northern France to Menton on the Cote d'Azur with now over 50 stores.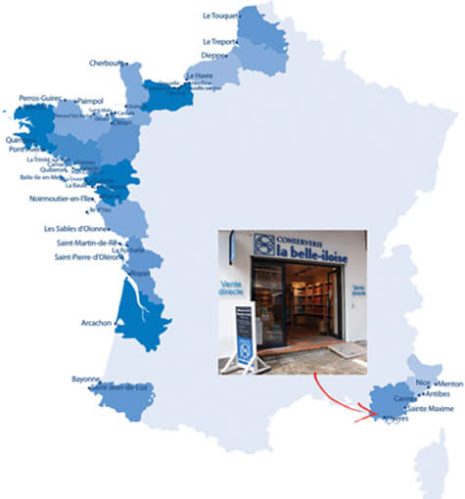 In 2011, after working for five years with her father, Caroline Hilliet Le Branchu took the helm of the family company and pursued the same course.
Despite it's rapid expansion since the late 1990s (the company employs between 350 and 600 employees depending on the time of year), La Belle Iloise has remained a family company and, in this way, has been able to develop whilst remaining loyal to its founding values.
2023 –  Onwards and Upwards For La Belle Iloise
As already mentioned, La Belle Iloise has always made quality their priority, with quite early on, the development of more unusual gourmet recipes and seasonings based around sardines, tuna and mackerel – as well as their soups. All this is presented in colourful packaging!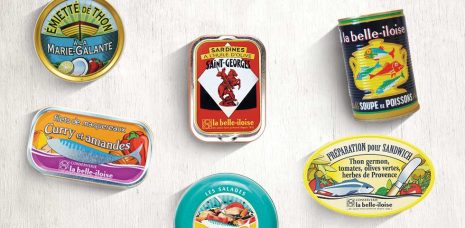 One reason why the La Belle Iloise range is so good is because of the emphasis placed on sourcing and using top-quality ingredients, from the best quality fresh fish (sardines, mackerel and tuna fillets) through to the seasonings used (using the best of French everywhere such as Menton lemons, Espelette pepper, Bayonne ham) and very important in tinned fish, oil, which is the second most important ingredient since it enables the fish to be preserved and release its full flavours.
Many of the production steps are still performed manually. Not out of nostalgia for old traditions but because the company still feels that the best way to preserve the fragile fish is to perform many of the tasks by hand by highly experienced staff. It's a meticulous task, from cleaning of the fish, to removing the backbone (for the boneless sardine range) to packing and preparing the seasoning for each recipe (cutting lemons, chopping basil). So in many ways, although on a much larger scale, the products are prepared in a similar way to the early days, with no shortcuts, and this is why the range is so good!
Throughout the production process, the Cannery performs regular quality controls and samples each batch with an internal tasting panel. This is a key step to guarantee quality in the appearance and taste of our products and leave nothing to chance.
The Relationship Between Good Food Network And La Belle Iloise
The Good Food Network has been stocking La Belle Iloise for just under a year, writing this post (we started in Spring 2022). Our comments, thoughts and plans?
We are very happy to stock this range and like everything about it! We knew La Belle Iloise products by name. We first tried them, having discovered their Le Touquet store in March 2017, and have since regularly ordered them for ourselves.
For the time being, our range is a little more focused around La Belle Iloise soups (veritable soupe de poissons Brettone, bisque de homard, soupe de poissons de roche provencale, veloute de coquillage) as these have seemed most popular with our customers. Available both singly or in a pack of six.
Taste a part of history 
Our belief in the exceptional quality of La Belle Iloise products has led us to expand their range of tinned fish. At The Good Food Network, we currently offer a fantastic selection of fish soups that are sure to satisfy your taste buds. With our commitment to quality and excellence, you can trust that each can of La Belle Iloise fish is a product of the highest standard.