Domaine De Bequignol Artisan Chocolatier Since 1972
The founder of The Good Food Network, Paul Gimblett (81 this year but still as enthusiastic about French food as ever!) discovered Domaine de Bequignol, courtesy of a friend and contact from the region, to whom we are grateful, as we would otherwise not have discovered this little gastronomic jewel!
Domaine de Bequignol History
Domaine de Béquignol is a Family run artisan chocolatier founded in 1972 by Claude Ginebre in the small village of Carlux in the French Perigord region.
The French Perigord is widely reputed, even within France, as producing some of France's best fine foods, and Domaine de Bequignol fits well into this tradition!
Proud of his region, Claude Ginebre first started producing walnut-based liqueurs, and this already taught him how to work with and prepare walnuts.
In 1980, he began using this know-how to produce chocolate-covered walnuts and the brand best-seller, the Petite Perigord Gold – also called Arlequines.
Chocolate and hazelnut/ almond combinations naturally followed from this idea, and since then, Claude Ginebre, together with his daughter Marion Zanatta and a staff of approximately a dozen, have continued to innovate and develop new and original chocolate-based recipes, working with dried prunes, mango, and kiwi more recently!
Domaine De Bequignol Philosophy = Quality!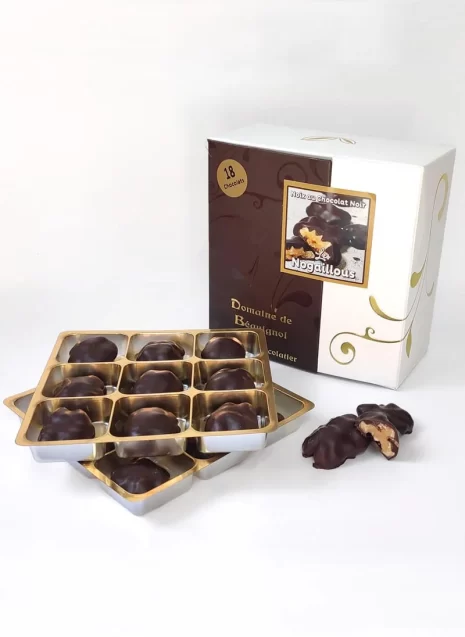 Domaine de Bequignol works only with ingredients of plant origin (making them suitable for vegetarians and vegans) and uses only cocoa butter as fat and no other vegetable fat.
The dark chocolate used has been selected for its high quality and refined taste, and this really is noticeable when you try these delicious chocolates and one of the things we noticed most when we first sampled them!
The quality of the walnuts used is also very high, and this, together with the artisanal methods used to prepare them, means that in taste, the Domaine De Bequignol Chocolate Covered walnuts are far superior to mass-produced chocolate walnuts.
The Domaine Bequignol Range Today At The Good Food Network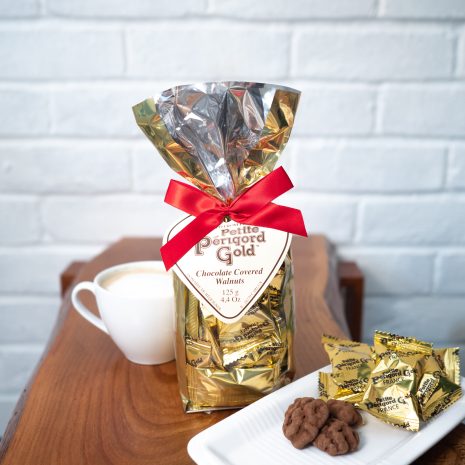 As already mentioned, the Domaine Bequignol complete range today is something to behold (please click here if you are interested to see their range on our website).
We have tried many of their other specialities over the years (such as the chocolate-coated almonds and chocolate-covered almonds) and every Christmas, M. Ginebre very kindly sends us a very generous box of his new specialities!
We have, however decided for now to focus mainly on the Domaine De Bequignol Petite Perigord Gold with occasionally a few "visiting" fine foods as points of interest for you to try!
Please click here to view all our range of French confectionery (including marrons glaces Clement Faugier and artisan French jams).