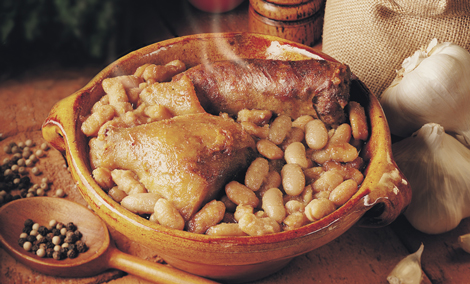 A Few Variations On How To Serve And Enjoy Cassoulet!
We tend to write blog posts when we have an idea we are keen to share with you! Today it is cassoulet and we are building on a previous blog post "how to serve enjoy at eat cassoulet" with, we hope, some novel ideas!
Although all our cassoulet are ready to serve (simply warm up and enjoy!) and complete and delicious meals in their own right, we have over the years, courtesy of customer suggestions and our own ideas, come up with a few ways to alter the taste of your cassoulet, if you have the time! So  if you enjoy our cassoulet on a fairly frequent basis, the below ideas may just make for a change and transform your cassoulet into something slightly different!
For all the suggestions below, you can use either just one, or more of these ideas combined, based on your own tastes and preferences!
We have not added quantities, as these will be influenced by the cassoulet of quantity being served (for example is your cassoulet one portion, two portion or four portion). And also at The Good Food Network, we tend to cook more by flair than precise measurements!
Cassoulet With Additional Fried Shallots And Garlic
We first came across this idea well over a decade ago, courtesy of a long standing, very enthusiastic and kind customer! Take a shallot or two and a clove (or two) of garlic, slice them finely and fry them gently in a little olive oil until golden brown and then add them to your cassoulet.
The fried shallots give a slightly sweeter taste to the cassoulet, and if you enjoy garlic, then you just have more of that flavour.
Cassoulet With Chorizo
Try adding some cooking chorizo of your choice cut into one inch pieces to your cassoulet to impart the unique flavour of chorizo to your dish.
Cut your cooking chorizo into one inch slices, fry them gently in a frying pan with lid on (you don't have to add any oil as chorizo is so fatty) and then add the pieces of chorizo to your cassoulet.
Depending on the type of chorizo used, it will impact on the cassoulet taste. For example spicy chorizo will make give the dish a certain kick. A more smoky chorizo a smokier flavour.
Our main observation is that adding chorizo adds to cassoulet adds a depth of flavour, which we appreciate.
You can source good quality chorizo from all major supermarkets, local delis and the Brindisa website has a superb range.
Cassoulet and Duck Confit
This is an idea we have used with great success when we have Family and friends round.
Although our duck cassoulet already have confit in them already, it will never be as good as if you prepare a tin of duck confit separately, and then just prior to serving your cassoulet, add the duck confit legs on top.
So just to recap – prepare a cassoulet tin as you usually would (i.e. pour into a saucepan and warm gently). Prepare your duck confit separately (open a duck confit tin, brush off excess fat, place in an oven skin side up at 180c for 25 minutes or until golden brown) and then place your duck confit legs on top of the cassoulet.
The main change this will achieve is that the percentage of duck confit in the dish will increase substantially.
Cassoulet And White Wine
This works especially well, we find, in conjunction with variation one (cassoulet with shallots and garlic). Add a little white wine (not too much) to your cassoulet to loosen it up, and then warm up your cassoulet and simmer it a little longer than usual to cook through the wine. Again, like the chorizo it adds an extra flavour dimension to our cassoulet.
The idea is not to overpower the cassoulet flavour with wine, but just to have a hint/ background flavour.
Cassoulet And Chicken Stock
Cassoulet can be a little dense (stodgy) in texture. And we feel adding a cup of chicken stock to the mixture just loosens it up in a way, which we prefer! Good quality stock is better naturally, but even a stock powder cube will achieve this.
Cassoulet And Tomato
Most cassoulet recipes have some degree of canned/ chopped tomatoes in them. If you enjoy tomato, you can add just a little more tomato to alter the flavour. It's always a question of nuance – best underdo it than overdo it.
Cassoulet With French Petit Pois
We only came across this idea very recently courtesy of an enthusiastic customer (who as an aside also adds redcurrant jam to his cassoulet, which we find one step too far!). But certainly French petit pois Cassegrain brand, with their sweet flavour and the juice they are stored in will both loosen your cassoulet and also add a sweeter note to the cassoulet. We have not yet tested this idea, but know enough about both our cassoulet range, and French petit pois to know this will work!
And that is it in our recipe ideas! If you have your own variation cassoulet, please let us know!