3 Foie Gras Appetisers For Your Next Dinner Party
Unfortunately, we've all been in the position where we've agreed to host a dinner party with friends, but in all the hustle and bustle of everyday life, we've given it zero thought. 
As the date approaches, the nagging fear that your menu will seem a bit lacklustre starts to creep in. Not to mention the pressure of being able to pull something together that's easy and tastes delicious.
While we can't help you out with your mains and desserts, in our opinion, there's no better way to start the evening with some Foie Gras.
In this post, we've curated three exquisite Foie Gras appetisers that are easy to prepare and guaranteed to leave a lasting impression. 
Before we get started, though, why not take a look at our range Foie Gras from Edouard Artzner and Castaing here.
3 Foie Gras Appetisers For Your Dinner Party
1. Seared Foie Gras With Fig Jam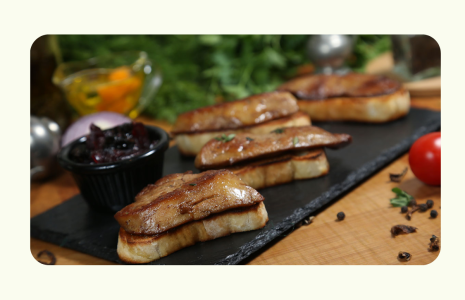 Seared Foie Gras with fig jam is a luxurious dish that combines the rich and buttery taste of  Foie Gras with the sweet, fruity essence of figs. 
The Fig Jam, made from ripe, luscious figs, adds a delightful contrast of sweetness and acidity, balancing the savoury richness of the Foie Gras. This exquisite pairing is a harmonious blend of flavours and textures, creating a culinary masterpiece that satisfies the taste buds.
We also sell a collection of luxury jams, including fig jams, which are perfect for this dish. Take a look for yourself here.
What you'll need 
A list of what ingredients you'll need 
Salt and Pepper

Fig jam

Crusty bread (toasted)
How To Make
Slice your Foie Gras into evenly sliced pieces. 

Next, gently score the same knife across your slices following a crisscross pattern. Season your foie gras to taste with salt and pepper to prepare them for your pan.

Place your Foie Gras slices on your pan and sear them over medium-high heat for around 15 seconds on each side. They should look golden brown on each side when seared correctly.

Lightly toast your bread and spread some Fig Jam on top.

Transfer your seared Foie Gras and place it on your crusty bread and Fig Jam. 

Gently sprinkle a pinch of salt across before serving. 
2. Gingerbread Bites With Foie Gras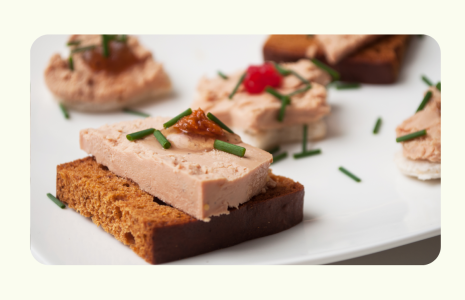 These bite-sized morsels feature tender, seared Foie Gras on top of small gingerbread squares. The Foie Gras provides a luxurious, creamy richness, while the gingerbread lends a warm and slightly spicy sweetness. This elegant appetiser or snack is a unique yet simple combination, perfect for those seeking an indulgent appetiser with a touch of sophistication. 
What you'll need 
Gingerbread spices

Fig jam

Butter

Flour 

Baking powder

Honey

Crème fraîche

Gelatine leaves

Porto 

Crushed Chilli Flakes

Salt, pepper
How To Make
To make the Gingerbread
Put the water, honey, butter, spices, sugar, salt in a saucepan and bring to a boil.

Mix flour and baking powder in a bowl, add the liquid mixture and whisk.

Grease a loaf tin, then pour the mixture into it.

Bake for 20 to 30 minutes.
Assemble you appetiser
Once cooled, cut the Gingerbread into circles or squares.

Cut your Foie Gras into similarly sized squares/circles and put on top of the Gingerbread.

Finish with a pinch of salt and black pepper. You can also add a few sprigs of herbs before serving for an added touch. 

Keep well covered and refrigerated until just before serving, and take the slices out of the fridge for 5 – 10 minutes before serving so the foie gras can warm up a little.
3. Foie Gras Mini Burgers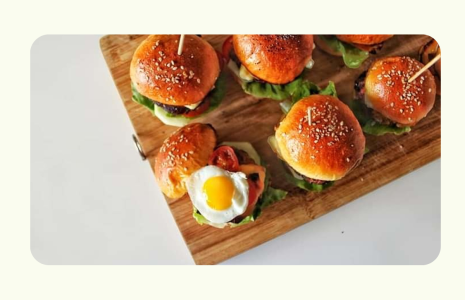 Foie Gras Mini Burgers are a gourmet twist on the classic American slider. These bite-sized delights feature a petite, seared Foie Gras patty nestled between mini buns. The Foie Gras provides a velvety richness, while the small burger buns add a comforting contrast in texture. Topped with your preferred garnishes like sweet and tangy fig compote or caramelised onions, these mini burgers are a must-try for those seeking a sophisticated and decadent culinary experience.
What you'll need 
A list of what ingredients you'll need 

brioche bun, sliced

Granny Smith apple

White truffle butter

sugar

onion, peeled and sliced

Balsamic vinegar
How To Make
In a pan, throw in your chopped apple with a tbsp of sugar. Once softened, puree your apples, strain and keep warm. 

Next, simmer your onions with some balsamic vinegar.

Toast the brioche buns and spread some of the purred apple sauce onto one side.

 Now slice your Foie Gras, place on top of the apple sauce, and spoon the onions on top, (you can even add an egg for extra indulgence).
Bon Appetit
Now you can sit back and relax, knowing you've got everything you need to get your dinner party off to a great start with any one of these Foie Gras appetisers. Whether it's a twist on an American classic, a simple seared Foie Gras or a warming gingerbread bite, with these appetisers, you're guaranteed to impress and leave your guests wanting more. 
 Don't forget to explore our whole range of Foie Gras here!
If you fancy learning more about Foie Gras, our post on 9 Fun Facts About Foie Gras has some great trivia to further impress your guests.