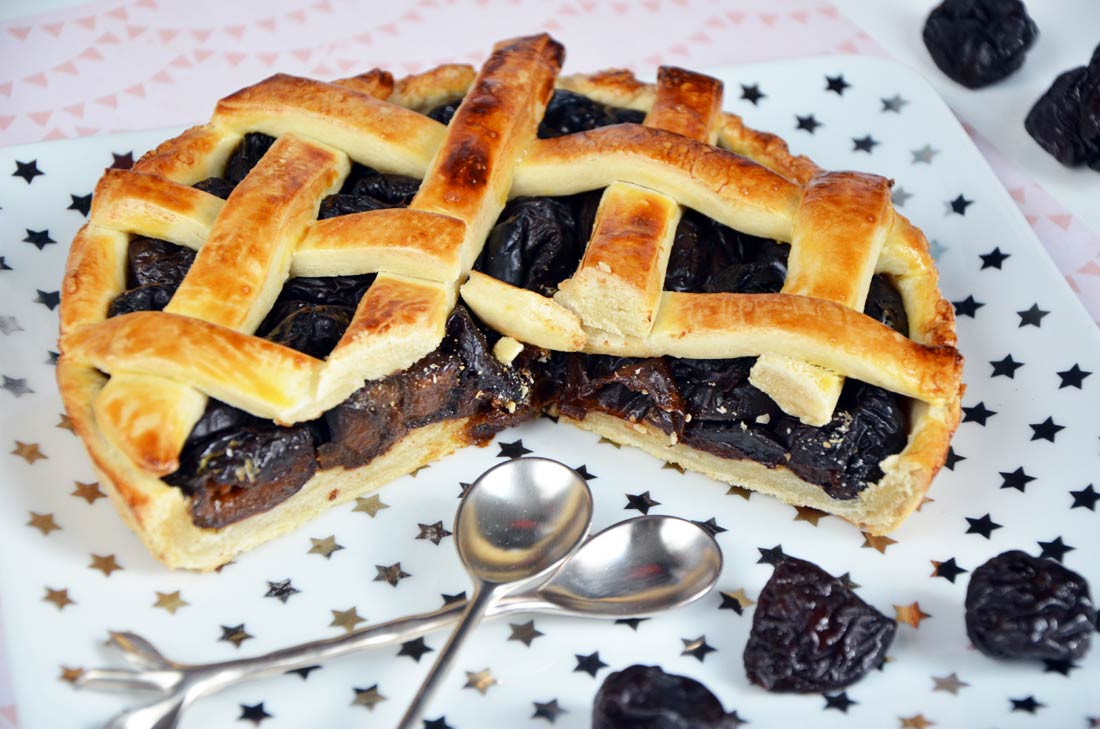 Agen Prune Tart (Tarte Aux Pruneaux d'Agen)
A relatively simple, nutritious and tasty Agen prune tart that you can make and enjoy all year round courtesy of Agen prunes in packets! Please note that step one (soaking your Agen prunes) needs to be carried out the night before hand to soften the prunes.
Agen Prune Tart Ingredients
For The Prune Mix
500g unpitted Agen prunes (you can use pitted Agen prunes if you want to keep the recipe simpler)
100g sugar
50ml Armagnac liqueur
For The Pastry
300g white cake & pastry flour
175g of butter
1 egg yolk (optional – gives a nice colour to the pastry mix)
3 tablespoons of sugar
100ml tepid water
A pinch of salt
Optional Nappage (this is more for visual effect and not essential)
1 sachet nappage
3 tablespoons of sugar
200ml of water
How To Make Your Agen Prune Tart
One Day Ahead
Soak your Agen prunes in water to soften them the night before. Once they have soaked over night, remove the stone from the Agen prunes.
Although it is simpler to use pitted Agen prunes, the stone in variety have more flavour and if you have the patience, you will obtain better results using unpitted Agen prunes.
On The Day – Pastry Mix
Put the flour in a mixing bowl. Make a small well in the middle and add a pinch of salt, all of your sugar and butter (which you need to soften beforehand by leaving it out a few hours and you can place it an oven at 50c for a few minutes) and rub the mixture between your hands.
Then add the egg yolk (if you are using this) and 100ml of water. Continue kneading the pastry into a compact ball.
Place this in a cloth coated with a little flour (to avoid it sticking) and let it rest an hour in a fridge.
Agen Prune Mix
Remove the stones from your pruneaux d'Agen (if you are using the stone in variety), and cook the prunes gently in a saucepan (with some of the water you soaked them in) gently for 10 minutes. Then blend this mixture with a food blender.
Add the 100g of sugar and 50ml Armagnac liqueur (this really does add great flavour) and cook the mixture a further 10 minutes until the Agen prune paste is thicker.
Bring It Altogether!
Rub some butter around your tart tin and add a little flour so that the tart does not stick to the base.
Then roll out your dough mixture using a rolling pin and place it inside of the tart dish and prick the pastry with a fork. Keep extra dough for later and cut this into thin strips to decorate the top of your tart.
Preheat your oven to 200c and cook the tart base for 10 minutes.
Add your Agen prune mixture with a spoon and spread evenly.
Then place strips of dough on top (as illustrated) in a criss-cross shape for visual effect.
Brush the this top pastry with an egg yolk  diluted in a little sugary water to achieve a nice golden colour on top.
Then place tart in oven for 20-30 minutes at 190g until golden.
Finishing Touches!
You  can then dilute a nappage packet into a little water with 3 tbsp. of sugar.
And when your tart is nice and golden, remove it from oven and brush this mixture over top of tart.
Let it cool down an hour.
And then place in a fridge one hour.
And Bon Appetit!